New Robotic Welding System and Gantry Crane Creates Jobs, Reduces Waste, Decreases Emissions and Improves Time Efficiency
Hannibal Industries, one of the largest steel pallet rack manufacturers in the U.S., today announced it has added the latest robotic welding technology to its Southern California-based manufacturing facility in its continuing quest to make plant operations more efficient and productive. In addition, the company has purchased a CombiLIft CombiMG 2533-02 gantry crane that has been retrofitted to move master coils of steel for a more efficient stacking pattern, reduced emissions leveraging its LPG-fueled motor, and significant time savings on inter-plant transport of materials.

"We have been carefully moving towards robotics for more than a decade as the technology meets the levels of expectation we have for our products," said Steve Rogers, executive vice president of Hannibal Industries. "This advancement will not just help us overcome the challenges of rack system frame welding, but will assist our highly skilled employees to improve overall production consistency, accuracy and material conservation."
Hannibal Industries, an employee-owned company, conducts ongoing training to elevate its entire workforce to understand new technologies as they are introduced to the operation, and ensures that each advanced robotics element will bring significant benefits to customers and employees alike prior to implementation.
Among the benefits of the new 30 by 90-foot RackMaster robotic welding system are high throughput, low cycle time, repeatable welds and easy operation, and features two robotic welders, two workstations, universal tooling, a Ferris Wheel positioner, vertical -down welding procedure and a customizable welding torch. The crane, which required both hiring and retraining and certification of existing employees in both operation as well as safety, will allow Hannibal to stack the steel master coils used for the production of racking as well as tubular products to three, saving a significant amount of space from a typical stack that can only be stacked to two with a traditional forklift.
To stay connected to Hannibal, please visit: http://www.hannibalindustries.com, on Twitter @HannibalRack, on the Hannibal Rack YouTube channel and on LinkedIn.
About Hannibal Industries, Inc.
Hannibal Industries, Inc., headquartered in the Los Angeles metro area, is a pallet rack and steel tube manufacturer with a diverse product line that enables the company to offer material handling products to the most massive operations in the world. This employee-owned company is the largest U.S. manufacturer of steel pallet rack west of the Mississippi River.
The company's industry leading product offering includes TubeRack, Structural Pallet Rack, Roll-Formed Selective Pallet Rack, Hybrid Systems, Cantilever Systems, Pushback Systems, Pallet Flow Systems, Case Flow Systems, Drive-In Systems and shelving. Engineering and design services offered by the company include system design; seismic engineering; permit administration; in-house installation and custom fabrication. A true innovator, Hannibal Industries was awarded a patent in 2006 for a pallet rack system adjustable safety restraint, and a patent for its TubeRack in 2015.
Featured Product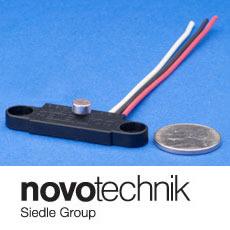 Vert-X 05E Series of dual angle/speed sensors. The series features easy mounting in small and narrow spaces with a 5 mm body depth and mounting flanges with metal inserts. The sensors make measurements only 6 mm from edge of product for close-to-wall measurement applications. Vert-X 05E Series sensors measure angles from 0 to 360°, rotational speed and direction with repeatability to 0.1°.