SnakeClamp Product's new custom-length Flexwire product is a durable, waterproof flexible mounting and positioning arm alternative to flexible gooseneck tubes. It is ideal for mounting objects in harsh or outdoor environments where a flexible positioning arm is required.
SnakeClamp Products of Christiansburg, Virginia has developed Flexwire, an innovative waterproof solid-core flexible mounting arm alternative to flexible gooseneck tubing. Due to its unique construction it is both stronger and more durable than a traditional flexible gooseneck tube. It is also rust and corrosion resistant which makes it ideal for use in marine and other harsh environments such as factories with chemical exposure. It can be used anywhere a flexible arm is required for the mounting and positioning of cameras, sensors, scanners, tablets, controllers or other electronics and equipment.

"This is a game-changer," says SnakeClamp President Gerald Zuckerwar. "We can now offer a flexible mounting and positioning arm for use in many industries and environments where traditional flexible gooseneck tubes are not suitable or strong enough."
Flexwire is manufactured in the USA from a solid copper wire core which is covered with a durable PVC jacket. Stainless steel connectors with female threads are crimped onto each end. Because Flexwire is stronger than traditional flexible gooseneck tubing it is harder to bend. Therefore it is best suited to applications where frequent positioning and re-positioning is not required. Flexwire is available from SnakeClamp.com and is sold in custom sizes between 6" and 36" in length.
SnakeClamp Products LLC is a privately held business located in Christiansburg, Virginia. They design, manufacture and market flexible gooseneck tubing, Flexwire and multipurpose SnakeClamp™ flexible arm stands and mounts.
Featured Product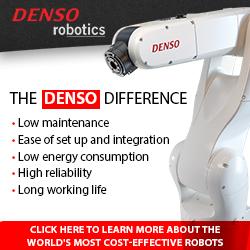 DENSO is the world's largest manufacturer - and user - of small assembly robots, employing over 17,000 of its robots in its own facilities. Over 77,000 additional DENSO robots are used by other companies worldwide. The compact, high-speed robots are used in traditional manufacturing sectors, as well as in advanced-technology applications in the medical, pharmaceutical and life sciences industries. Learn more about DENSO Robotics