• 15 percent faster picking times for increased productivity • Increases output and total line efficiency by 40 percent • Dramatically shortens commissioning times from days to hours and changeover times from hours to minutes • Digital dashboard and intuitive interfaces for easy data visualization • Integrates with packaging machine standard and factory planning systems
ABB Robotics has launched the third generation of PickMaster®, its market leading robotic software for vision-guided random flow picking and packing applications for the digital Factory of the Future. The new PickMaster Twin software is equipped with digital twin technology for the first time, to shorten commissioning times from days to hours and cut changeover periods from hours to minutes.

Digital twin technology allows customers to test out robotic configurations on virtual production lines before physical lines are built. When using digital twin technology, the simulated twin can be directly connected to production operations, which allows the picking process to be optimized virtually at the same time as the process is being implemented. For customers, PickMaster Twin now offers greater flexibility and visualization of all complicated robotic maneuvers designed for flow-wrapping, tray loading, case and carton packing and handling applications.
Enabling offline programming of picking and packing tasks means users can create, simulate and test a complete robot installation in a virtual environment without having to disturb their actual production line. This not only helps customers mitigate costly and time-consuming risks, but also shortens the time to market for new products, as product lines can be installed faster, ramped up to full speed without surprises during commissioning and continuously used in concurrent optimization - a critical competency for manufacturers with today's mass customization and shorter product life cycles.
PickMaster Twin also condenses and enhances the advanced application experience with new intuitive interfaces built on ABB's AbilityTM Zenon Operations Data Management, providing vibrant and colorful dashboards for easy data visualization. In addition, PickMaster Twin complies with the OMAC PackML (packaging machine language) standard, which makes it ideal for modern packaging machines. The latest PickMaster software also features online visual tuning of the workspace in both X and Y directions in order to maximize output and increase OEE (overall equipment effectiveness).
PickMaster Twin is available in a multitude of configurations and can work seamlessly with all ABB robots, and a range of virtual and physical machines. Coupled with the inherent user-friendly software, the PickMaster Twin is best-suited for factories and production lines where higher output, faster response times and quick changeovers are vital.
Steven Wyatt, Head of Portfolio and Digital for ABB Robotics & Discrete Automation business, said, "ABB's PickMaster software is already the market leader for easy configuration of advanced robotic actions, and has set the industry benchmark for simplifying the robot integration in picking, packing, and material handling for more than 18 years. These upgrades to ABB's PickMaster technology will help our customers take high speed picking and rapid applications to the next level, whether it's to boost picking and packing efficiency or to reduce the cost of integrating robotics into production lines."
###
ABB (ABB: NYSE) is a technology leader that is driving the digital transformation of industries. With a history of innovation spanning more than 130 years, ABB has four customer-focused, globally leading businesses: Electrification, Industrial Automation, Motion, and Robotics & Discrete Automation, supported by the ABB Ability™ digital platform. ABB's Power Grids business will be divested to Hitachi in 2020. ABB operates in more than 100 countries with about 147,000 employees. www.abb.com
ABB Robotics is a pioneer in industrial and collaborative robots and advanced digital services. As one of the world's leading robotics suppliers, we are active in 53 countries and over 100 locations and have shipped over 400,000 robot solutions for a diverse range of industries and applications. We help our customers to improve flexibility, efficiency, safety and reliability, while moving towards the connected and collaborative factory of the future. www.abb.com/robotics
Featured Product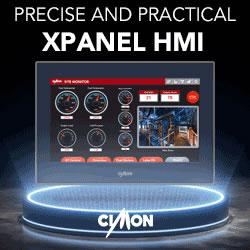 CIMON-XPANEL is a Windows CE based HMI unit. A combination of software and hardware, suitable for various monitoring needs within industrial sites.