• Ontruck to roll out operations in five of the country's main cities: Amsterdam, Rotterdam, Utrecht, The Hague and Breda. • The company is now present in four European countries as a short and medium distance freight transport operator. • The Spanish company expects to close 2019 with a turnover of €27Million - tripling its turnover since 2018.
London, 17 September 2019.- Ontruck, the Spanish based trucking platform, specialized in regional road transport of palletised goods, shows no signs of slowing down in its strategy for international expansion. With operations already established in Spain, the United Kingdom and France, they are today announcing the opening of a new office in Amsterdam to bring their innovative road transport solutions across the Netherlands as the company continues its journey to becoming the default platform for road transportation across Europe. Having closed 2018 with a turnover of €9 million, the company expects to triple this by finishing 2019 with a turnover of €27 million.

With this initial launch, the company will deploy its activities in five principal cities: Amsterdam, Rotterdam, Utrecht, The Hague and Breda, offering short and medium transport coverage in the areas with the highest demand, concentrated around the large urban centres. To pave the way for the launch, Ontruck has already signed up hundreds of hauliers in the Netherlands to further build out its growing network of drivers across Europe. This network consists of vehicles of all types, giving particular importance to light vehicles such as vans and rigid trucks.
"Our objective is to position ourselves as the largest network for freight transport in Europe. We are incredibly excited to roll out Ontruck in what constitutes our 4th market to date after the UK and France. The domestic trucking industry in the Netherlands transports 100 million tonnes of palletized goods annually, adding major potential for our services across Europe. From a geographic perspective, the Netherlands is a natural territorial extension for Ontruck, allowing us to connect more hauliers and shippers across a broader road network in the heart of Europe. We're excited to be covering an extra 9,000KM2 and improving the service for shippers and hauliers alike", ensures Iñigo Juantegui, CEO and co-founder of the company.
The Netherlands has a significant base of hauliers and concentrates a high volume of goods transport by road that accounts for among the highest on the continent. The country is also home to two key logistical hubs for Europe: Amsterdam, with Schiphol Airport, and Rotterdam, that boasts the largest port in Europe.
With low technological barriers, strong pre-existing freight infrastructure and a workforce with high knowledge of the freight industry and trade, the Netherlands offers ideal conditions to establish operations. However, as explained by Pjotr Horowitz, Chief Sales Officer who joins the company after 20 years working in the logistics industry in the Netherlands, "the sector still presents great inefficiencies for short and medium distance, and this is where Ontruck can provide great value, offering shippers an effective and intelligent alternative in order to manage the flow of goods in the most efficient way". Also, there is no other technology company in the country that is specifically dedicated to short and medium distance goods transport, "which positions us as market leader as we enter the market,''he adds.
About Ontruck
Ontruck was founded to develop technologies that make the road freight experience a smooth and efficient one for both truckers and companies who send shipments. They do this by drastically reducing the amount of empty kilometres travelled by goods vehicles, therefore optimising their use and utilization. Thanks to the Ontruck platform, shippers can quickly and easily upload their jobs to the platform and hauliers can select which shipments they want to transport from the comfort of their app. All this while contributing to conserving the environment by reducing CO2 emissions.
Ontruck has been shortlisted as a finalist for both the National Transport Awards (2018) and Global Freight Awards (2019) in recognition of the digital transformation and innovation it is bringing to the road freighting industry.
Featured Product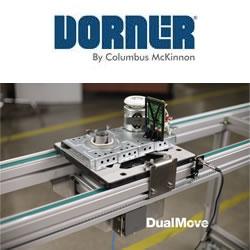 Dorner's 2200 Series Precision Move Pallet Systems are ideal for assembly automation. With features such as an innovative timing belt conveyor design and industry best pallet transfers, they get your product to the exact location, at the exact time and in the exact position it needs to be. They are now available with new options such as heavy load corner modules with 150 lb. capacity and 180 degree tight transfer corners for compact loops.