ADLINK Technology is now part of the ROS 2 Technical Steering Committee (TSC) organized by Open Robotics.
ADLINK Technology is now part of the ROS 2 Technical Steering Committee (TSC) organized by Open Robotics. The Robot Operating System (ROS) is the world's leading open source resource for roboticists. The ROS 2 TSC sets the technical direction for open robotics and is made of organizations actively contributing to the development and success of ROS 2.

ADLINK's contributions to the ROS 2 TSC are focused on:
ROS Middleware (RMW) improvements for flexibility & performance via OMG Data Distribution Service (DDS) capabilities & best practices.
ROS 2 contributions for open source Eclipse Cyclone DDS, an open source Eclipse IoT project that is suited for autonomous mobile robots (AMR), and open source Vortex OpenSplice for large, complex systems.
Working to establish an Edge AI Working Group with fellow TSC members and contributing deep expertise in edge AI for machine vision.
"We're excited by ADLINK's contributions and to have them join the ROS 2 TSC. Their contributions will help enable our vision of an open source robotics ecosystem," says Brian Gerkey, CEO of Open Robotics.
"ROS 2 is the future of robots, autonomous vehicles and industrial automation. It will be everywhere," says Joe Speed, ADLINK Technology Field CTO, ROS 2 TSC representative and OMG board member.
For more information on open robotics with ROS 2, please visit:
https://design.ros2.org
https://github.com/ros2
https://index.ros.org/doc/ros2
https://discourse.ros.org/t/introducing-the-ros-2-technical-steering-committee
ABOUT ADLINK
ADLINK Technology is a global leader in Edge Computing. Our mission is to affect positive change in society and industry by connecting people, places and things with AI. We do this through the delivery of leading edge, robust solutions for critical business and technology challenges. For more information, please visit: http://www.adlinktech.com
Featured Product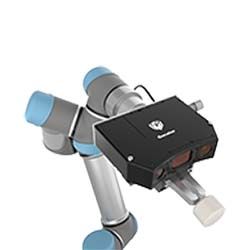 Easily integrate Gocator® 3D line profile and snapshot sensors with a variety of industrial robots to deliver high-performance 3D results in vision guidance, flexible inspection, material dispensing, and automated assembly with smart pick-and-place. Adding 3D vision to a robot turns repetitive, fixed motion into smart movement that can unlock greater value for your automation investment.