KUKA's on-site experts will display its packaging solutions built for collaboration, efficiency and accuracy at the packaging trade show in Las Vegas
KUKA Robotics, a global supplier of intelligent automation solutions, will display its robotic automation portfolio for packaging industry leaders at PACK EXPO in Las Vegas from Sept. 23-25. PACK EXPO brings together 30,000 professionals from all packaged goods industries as well as 2,000 world-class suppliers for the largest packaging event of the year to learn new strategies and opportunities for industry growth.

Attendees can visit booth #C-5428 in the Central Hall to view a series of the latest applications demonstrations, software and videos from KUKA. There will also be a team of KUKA's application experts on-site to discuss which solutions can help attendees enhance productivity and increase output. The solutions on display include:
KR 120 R3200 PA: This packaging and palletizing robot is one of the fastest, most precise and most powerful robots in its class and is particularly useful for stacking multiple palettes to an enormous height. Two KR 120 R3200 PA robots will be on display: One will be demonstrated with a bucket gripper, the other will interact with a KMP 1500 mobile platform.
KMP 1500: This mobile platform provides manufacturers with shorter response times and greater flexibility to keep up with the evolving manufacturing environment. The robot can independently transport products through all steps of the production and packaging process to improve overall production time. At the booth, the KR 120 R3200 PA robot will sit on the KMP 1500 as a way to move throughout the booth's mobility area.
KR 6 R900: The KR 6 R900 is a compact robot that saves space with its small footprint, making it adaptable to different environments. Its speed and accuracy reduce cycle times and increase repeatability. The solution will be featured in a 3D bin picking demonstration alongside the KMR iiwa.
KMR iiwa: The KMR iiwa robot combines the strength and sensitivity of the LBR iiwa robot with mobile capabilities to make the solution location-independent and highly flexible. In the demonstration, the KMR iiwa mobile robot will supply the blocks for the KR 6 R900 to sort through in the 3D bin picking demonstration as well as remove the already sorted bins.
KUKA AGILUS: This robot is compact and built for high working speeds. Its small size allows for increased precision, making it a perfect tool for tasks like assembly and fastening. The solution will be shown with KUKA.SafeOperation, which defines and monitors workspaces and protected spaces of a factory floor.
In addition to this exhibition, KUKA will showcase more of its robotic offerings at booth #N-850I located in the North Hall, where attendees will be available to discuss all six stages of human-robot collaboration (HRC). These six stages demonstrate the different ways the packaging industry can use collaborative robots to save costs, create efficiency and address business challenges to see results on their bottom lines.
As part of the HRC exhibition, KUKA will also feature a robot band, including a piano-playing robot, highlighting the robots' high-quality motor skills and HRC capabilities. Ron Bergamin, Senior Sales Application Engineer at KUKA, will host two sessions titled "Behind the Music of KUKA's Robot Band," to showcase the technology behind the robot band and how it was developed. The first session will be held Monday, Sept. 23 at 12:30 p.m., and the second session will be on Wednesday, Sept. 25 at 2:30 p.m. at the HRC booth #N-8501.
The North Hall booth will also present a Siemens AI picking and sorting demonstration using KUKA's LBR iiwa robot to display how vision-based, real-time AI helps automate flexible packing of adversarial objects. The LBR iiwa robot uses a camera on its arm to localize the selected objects and transfer them to a container. Booth visitors can select which objects to pack from an unsorted pile using the HMI.
"The packaging industry needs solutions that offer flexibility, efficiency and accuracy," said Steve Green, General Manager of Robotics and Solutions at KUKA. "As manufacturing continues to evolve, the technology needs to follow suit. That's why we at KUKA have worked to develop updated solutions and best practices to meet the changing needs of the packaging and manufacturing industries."
For more information about PACK EXPO and KUKA's exhibitions at the show, visit: https://www.packexpolasvegas.com/.
For more information about the solutions KUKA will display at booth #C-5428 and booth #N-850I, visit: https://www.kuka.com/.
About KUKA
KUKA is a global automation corporation with sales of around EUR 3.2 billion and around 14,200 employees. As a leading global supplier of intelligent automation solutions KUKA offers its customers everything from a single source: from robots and cells to fully automated systems and their networking in markets such as automotive, electronics, general industry, consumer goods, e-commerce/retail and healthcare. The KUKA Group is headquartered in Augsburg, Germany.
Featured Product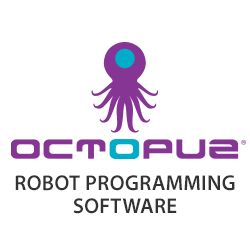 OCTOPUZ makes complex robot programming simple through cutting-edge Offline Robot Programming Software (OLRP) that enables detailed robot operations, complete with machinery and manufacturing components, to be first simulated on a computer, then output for the real world. Within this virtual cell, OCTOPUZ uses built-in machine logic to identify the optimal toolpath trajectory and program the required code for a multitude of industrial tasks. The code is then output for the specific robot brand, for use in the real world.