Brand new technology means creating stable visual inspection programs has never been easier
Itasca, IL: KEYENCE Corporation of America, a leading supplier of sensors, measuring systems, laser markers, microscopes, and machine vision systems worldwide recently released a new vision sensor which utilizes artificial intelligence. The new IV2 Vision Sensor Series continues KEYENCE's trend of innovative new technology paired with ultimate usability. The artificial intelligence learning algorithm means that all customers have to do is teach images of good and bad parts - no vision programming knowledge is necessary for stable results.

Commenting on the implications of this artificial intelligence algorithm, Technical Marketing Manager Phil Jarzombeck said, "The AI algorithm accounts for variations in lighting, part lot differences, and even oily and dirty parts. This increase of stability and simplicity will be felt across every industry that performs automated inspection."
The IV2 was designed so anyone can program a stable program. And when a new variation of a good or bad target comes down the line, the IV2 can register it to further increase stability and repeatability of judgement. In addition the AI algorithm, the IV2 will also include:
• Lighting that is 30% brighter than conventional vision sensors, increasing detection range and eliminating noise.
• Full VGA resolution, allowing for not only minute detection but also increased range and field of view.
• SD card support, allowing for thousands of images to be saved for quality analysis.
• An optional large control panel, perfect for quickly adding new good/bad images to the AI algorithm, viewing previous images, and viewing statistics.
Visit http://www.keyence.com/fdxpr to learn more about the IV2 Series.
KEYENCE Corporation of America is an 8-time Top 100 Most Innovative Companies in The World award winner. KEYENCE is a leading supplier of sensors, measuring systems, laser markers, microscopes, and machine vision systems worldwide, KEYENCE is at the forefront of factory automation. Focusing on innovation helps drive KEYENCE's global network of direct sales engineers in providing over 200,000 clients with value-added solutions.
Featured Product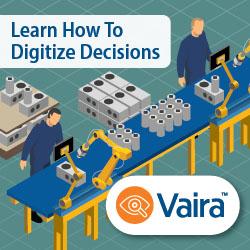 Vaira™ helps manufacturers digitize, automate, and upgrade error-prone manual processes and decisions to boost productivity and increase profits by helping humans make decisions consistent, reliable, and traceable. The camera-based solution is powered by a scalable suite of shop floor-ready apps built on proven machine vision and AI expertise for frontline manufacturing operations, with two-way integration to resource planning tools to help drive continuous analysis, insight, and improvements. Start digitizing immediately, streamlining processes customized to your unique requirements and reduce errors that lead to costs, delays, and quality concerns.