The robotic piece-picking solution combines award-winning technology from RightHand Robotics with Element Logic software and AutoStore's automated storage and retrieval system.
September 30, 2019 - BOSTON - RightHand Robotics (RHR), a leader in providing autonomous robotic piece-picking solutions, and Element Logic, AutoStore partner and Europe's leading intralogistics company, announced the launch of an integrated robotic piece-picking solution that combines the technologies of both companies. The announcement was made in conjunction with IMHX in Birmingham, UK, September 24-27.

The robotic piece-picking solution combines award-winning technology from RightHand Robotics with Element Logic software and AutoStore's automated storage and retrieval system. The system integrates with any warehouse management software or enterprise resource planning (ERP) system, enabling customers to decrease operational costs and boost overall profit.
Range, Rate, and Reliability
RHR's technology excels at the 3Rs of robotic piece-picking: Range, Rate, and Reliability. The platform is able to pick and place a wide range of items, fulfilling orders at high speeds while ensuring that customers consistently receive what they ordered. The system uses vision, machine learning, and an advanced multi-function gripper with gripping fingers and a suction cup that can be used independently or in tandem with humans at the same picking station for maximum flexibility.
"The Element team's expertise in warehouse automation has made the project run smoothly, and RHR is excited to be working together to connect robotic picking with customer operations," said Leif Jentoft, co-founder of RightHand Robotics. "With proven reliability and millions of picks, our technology provides an obvious advantage in today's environment of shrinking labor and increasing customer pressure for supply chain performance."
Ready
The new robotic piece-picking solution will help customers advance in their markets and is ideal for picking-related warehouse tasks.
Element Logic offers Design and Consulting services to ensure that customers know how this platform can work for them. This includes a pickability assessment where customers have the option to see for themselves how well the robotic piece-picking platform picks and places their SKUs, followed by a detailed report with recommendations for optimal use tailored to their specific needs.
"After a long test phase to ensure that our robotic piece-picking solution will produce profitable results for our customers, we are now ready to launch our collaborative technology at IMHX. Our solution is ready to run with any warehouse management software to optimize warehouse performance. The interface is intuitive, reducing the need for training," says Steinar Overbeck Cook, Chief Technology Officer (CTO) at Element Logic.
About Element Logic
Element Logic is the original AutoStore partner and leading technology and intralogistics company in Europe - focusing on optimizing warehouse performance. The company was established in 1985 and is represented in 8 countries - serving customers of all sizes in a wide range of industries; parts distribution, 3PL, pharmaceuticals, apparel and sports equipment etc. Autostore is a compact, flexible and scalable Automated Storage and Retrieval System (AS/RS). For more information about the company and AutoStore, visit: www.elementlogic.net or follow the company on Facebook and Linkedin.
About RightHand Robotics
RightHand Robotics is a leader in providing robotic piece-picking solutions that improve performance and efficiency in e-commerce order fulfillment and intralogistics. The platform is a software-driven, hardware- enabled solution that handles the core task of picking and placing individual items as part of a wide range of workflows and processes. With this technology, businesses can reduce the cost of order fulfillment in electronics, apparel, grocery, pharmaceuticals, and many other industries. RHR was founded in 2014 by a DARPA challenge-winning team from the Harvard Biorobotics Lab, the Yale GRAB Lab, and MIT, intent on bringing grasping intelligence powered by computer vision and applied machine learning to bear on real-world problems. The company is based in the U.S., outside of Boston, Massachusetts. For more information, visit www.righthandrobotics.com or follow the company on Twitter and LinkedIn.
Featured Product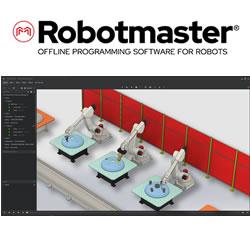 Robotmaster delivers unmatched, full-function off-line programming capability for robots - easy programming of precise robot motion control and quick generation of path trajectories of any size, with minimal programmer intervention. Our strong background in CAD/CAM (Computer Aided Manufacturing) software has enabled us to bring a revolutionary approach to programming industrial robots.