Deal with UAS Pioneer, Formerly CyPhy Works, Includes Intellectual Property, Multiple Patents
FLIR Systems, Inc. (NASDAQ: FLIR) announced that it has acquired the intellectual property (IP) and certain operating assets of Aria Insights, Inc. Terms of the deal are not being disclosed.

Previously known as CyPhy Works, Inc., Aria pioneered the development of tethered small unmanned aerial systems (sUAS). Founded in 2008 by iRobot co-founder Helen Greiner and backed by several top technology investors, Aria notably developed the Persistent Aerial Reconnaissance and Communications (PARC) tethered drone. The company ceased operations in March 2019.
Tethered drones connect to a base station or vehicle by microfilament wire, which provides both continuous power and secure communications. For certain applications, a tethered drone offers advantages over a free-flying UAS, enabling sustained operations on longer missions and persistent situational awareness so users can perform intelligence, surveillance, and reconnaissance (ISR) functions.
The Aria assets will be integrated into FLIR's Unmanned Systems and Integrated Solutions Division, augmenting the company's industry-leading technology portfolio built from its acquisitions of Prox Dynamics in 2016 and Aeryon Labs and Endeavor Robotics earlier this year.
"Tethered UAS systems are becoming an increasingly valuable tool for force protection, border security, and critical infrastructure protection," said David Ray, president of FLIR's Government and Defense business. "Aria's innovative technology and IP assets will enable us to enhance current capabilities and advance the range of solutions we can deliver to customers in this growing market segment."
"We're pleased to complete the sale of our assets to FLIR Systems," said Lance Vandenbrook, former CEO of Aria Insights. "We are proud of the technology our team developed through the operations of CyPhy Works and Aria, and we believe FLIR offers the best opportunity to see it make a difference and support critical missions in the years ahead."
About FLIR Systems, Inc.
Founded in 1978, FLIR Systems is a world-leading industrial technology company focused on intelligent sensing solutions for defense, industrial, and commercial applications. FLIR Systems' vision is to be "The World's Sixth Sense," creating technologies to help professionals make more informed decisions that save lives and livelihoods. For more information, please visit www.flir.com and follow @flir.
Featured Product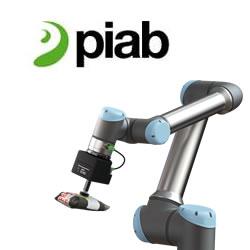 Piab's Kenos KCS gripper enables a collaborative robot to handle just about anything at any time. Combining Piab's proprietary air-driven COAX vacuum technology with an easily replaceable technical foam that molds itself around any surface or shape, the gripper can be used to safely grip, lift and handle any object. Standard interface (ISO) adapters enable the whole unit to be attached to any cobot type on the market with a body made in a lightweight 3D printed material. Approved by Universal Robots as a UR+ end effector.