Mencom's NEW LP1-E45UM-5 Low profile Panel interface connector has combined two of the most common and versatile components utilized by today's integrators, machine builders, and panel shops.
The new innovative design frees up valuable DIN rail space by moving the reliable, robust, and cost-effective unmanaged Ethernet switch to the side of the cabinet. By combining the switch with our Low-Profile panel interface housing, the product allows quick, easy, and secure access to multiple Ethernet components within the control cabinet. The LP1-E45UM-5 offers one RJ45 port outside the cabinet and 4 RJ45 ports inside the cabinet.

Mounted inside the LP housings, these rugged Ethernet switches can be directly installed on the outside wall of an electrical panel. The external port provides a means for communicating with devices inside the cabinet without opening the cabinet door, mitigating potential safety hazards. (such as Arc Flash) The Low-profile housing allows users to not only comply with stringent safety industry regulations but also save time and money by eliminating the need for expensive personal protection equipment (PPE) and licensed electrical technicians to access inside the cabinet. The unmanaged switches can come with other PIC components in three different sizes; one single cover (LP1), two single covers (LP2) and one double cover (LP3).
Mencom's new rugged unmanaged switches feature four of fast 10/100Base-T(X) RJ45 connectors with broadcast storm protection. They are certified for Industrial EMC and supports redundant power-input for enhanced safety that can be connected simultaneously to a wide range of DC power sources. If one of the power inputs fails, the other live source acts as a backup to provide the power needs automatically. The unmanaged switches provide a plug-play environment and do not require any complex configuration. The operational temperature ranges from -10 to 70 °C.
Please visit www.mencom.com for more information.
Featured Product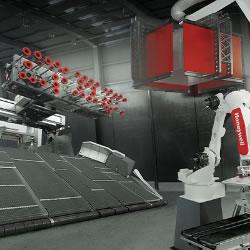 Challenges on the loading dock are characteristic of greater pressures from the rise of e-commerce. Loading and unloading freight from trailers, trucks and shipping containers are arduous, repetitive tasks plagued by high turnover. Even with regularly available staff, manually unloading freight and the constant lifting and twisting results in fatigue and inconsistent, declining productivity. Robotics capable of fully automating unloading tasks bring a new paradigm to the dock. High performance and flexibility push unloading from a labor-heavy, manual chore to an automated, refined process. High-performing DC workers can take more desirable positions, with relief from unpleasant work conditions. Management gets to replace uncertainty and staffing challenges with a reliable, automated process, with data to fuel continuous improvement.