- World Conference for Inspection and Maintenance Robotics 2019 & Exhibition to cover a broad scope of asset and industry sectors - Keynote speakers announced - Launch of industry guidelines for in-service robotic inspections for storage tanks
Industry leaders from around the globe gather in Rotterdam on October 22-23 for the World Conference for Inspection and Maintenance Robotics 2019, organized by the SPRINT Robotics Collaborative.

The two-day conference and exhibition focuses on the rapid developments, long-term industry priorities, and trends in the market of robotic techniques for inspection, cleaning & maintenance of capital-intensive infrastructure.
About the World Conference for Inspection and Maintenance Robotics 2019
SPRINT Robotics continues to grow at a rapid pace, not only in Participant numbers, but also with the expansion to other industry sectors. The program at the World Conference for Inspection and Maintenance Robotics 2019 reflects this, covering a broad scope of asset and industry sectors, ranging from pressure vessels and storage tanks; petrochemical and energy to public and water infrastructure, aerospace, subsea and next generation technologies.
The two-day conference program includes a prominent line-up of keynote speakers from leading companies: among others are Rebecca Wiles, Head of Upstream Technology at BP, Frits Eulderink, member of the Executive Board and COO of Royal Vopak, and Professor David Lane, director of the Edinburgh Centre for Robotics, as well as 48 speaker presentations from notable industry specialists. The exhibition features more than 50 global service and technology providers, live demos, poster sessions, and in collaboration with Holland Robotics, the Holland Pavilion which showcases Dutch universities, companies and innovation initiatives who are making significant progress in the development of inspection and maintenance robotics.
Highlights at the World Conference for Inspection and Maintenance Robotics 2019
The official presentation of the "Guidelines for the Application of Robotics for In-service Inspection of Above Ground Storage Tanks" kicks off the opening conference day. The guidelines aim to facilitate an accelerated yet responsible adoption of in-service robotic inspection for storage tanks.
A special evening banquet will be held on the iconic SS Rotterdam, the former flagship of
the Holland America Line, featuring Thomas Krueger of the European Space Agency as the
keynote speaker. During the banquet three SPRINT Robotics Awards will be presented for:
Ground-breaking Collaborative Work towards Acceptance of Inspection and Maintenance
Robotics, Scaling of a Robotic Solution, and New Innovative Technology in Inspection,
Maintenance or Cleaning.
On October 21st, the day prior to the conference, the European RIMA Network (Robotics for
Inspection and Maintenance) will host an Open Call Summit. The Open Call Summit gives
SMEs and end users a chance to interact, providing an opportunity to gain further
knowledge about RIMA's Digital Innovation Hubs (DIHs) and current developments about
the Open Call, which includes 8.1M€ in equity-free funding for technology transfer and
development in I&M robotic applications.
The SPRINT Robotics World Conference for Inspection and Maintenance Robotics 2019 will
take place on October 22-23, 2019 at the De Doelen International Conference Centre in
Rotterdam, in the Netherlands.
http://www.sprintrobotics.org/conference/
For the latest news and updates about the World Conference for Inspection and
Maintenance Robotics 2019 follow the conference and exhibition on Twitter at
#SPRINTconf and join SPRINT Robotics on LinkedIn.
About SPRINT Robotics
Launched in 2015, the SPRINT Robotics Collaborative is a not-for-profit global foundation,
driven by asset owners and operators to promote the development, availability, application
and commercialization of robotics techniques in technical inspections and maintenance of
capital-intensive infrastructure. SPRINT Robotics aims to achieve field use of inspection and
maintenance robotics of capital-intensive infrastructure assets on a large scale to address
immediate needs and long-term industry priorities: connect the value chain, develop best
practices, fast-track innovations, remove barriers to entry, encourage knowledge sharing,
and reduce cost, increase quality and control the risk of inspection activities.
With industry progress and acceptance of inspection and maintenance robotics globally, the
SPRINT Robotics Collaborative network continues to grow at a rapid speed. Participants
include asset owners and operators, technology developers and suppliers, and service
providers in the robotic inspection and maintenance field around the world.
Featured Product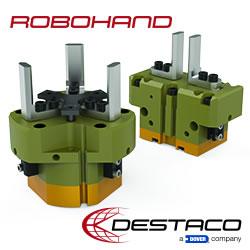 Automatically change end effector tooling quickly and easily with Destaco's Automatic Tool Changers. Designed with exceptional repeatability, high rigidity and load capacity, they are perfect for multiple tooling applications utilizing one robot. We offer different models and sizes to handle light-duty to heavy-duty applications. Our RQC/RTP Series provides a high level of flexibility with a configurable, modular design that accommodates up to four optional modular interfaces.