Water Jet Sweden has long been recognized for manufacturing the industry's most advanced, high-quality water jet systems. At FABTECH ATLANTA 2018, we took our technology to the next level with an Augmented Reality, 3D version of one of our most advanced waterjet machines, which was very much appreciated. Now it is time to bring that experience into FABTECH CHICAGO 2019.
With the 3D AR version of our FiveX machine at FABTECH, not only will visitors be able to get closer to an operational cutter than ever before, they'll also be able to look at it in 1:1, 1:4 or 1:10 scale, set it up wherever they wish, and then take it home with them on their smartphone or tablet.

"Augmented Reality has made it easy for us to bring a full scale, operational machine to FABTECH 2018 and allow everyone to experience it - in ways they've never experienced a waterjet before. And then they can take it home with them!" explains Lennart Svensson, CEO & President of Water Jet Sweden.
Water Jet Sweden offers tailored machine systems, matching specific customer requirements, from cutting small micro components to large ship constructions. Upon project completion, new machines are set up and immediately brought into full production at a customer's facility. This makes the moving of machines for exhibition purposes very impractical.
"Our 3D AR machine will give a life-like experience of our large-scale 3D cutting system", concludes Lennart Svensson.
Visit Water Jet Sweden at FABTECH 2019, booth A5125 in Hall A.
Water Jet Sweden contact:
Lennart Svensson, CEO/President
Tel. +46 457 455 440
E-mail. sales@waterjet.se
Web. www.waterjetsweden.com
Featured Product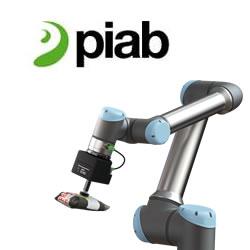 Piab's Kenos KCS gripper enables a collaborative robot to handle just about anything at any time. Combining Piab's proprietary air-driven COAX vacuum technology with an easily replaceable technical foam that molds itself around any surface or shape, the gripper can be used to safely grip, lift and handle any object. Standard interface (ISO) adapters enable the whole unit to be attached to any cobot type on the market with a body made in a lightweight 3D printed material. Approved by Universal Robots as a UR+ end effector.