Efficiency, Quality, and Automation Gains Are Propelling the Adoption of Cobots
As the implementation of smart factories surges forward, more companies are becoming aware of the growing importance of and uses for collaborative robots (known as cobots), according to a new report from Tractica. Still, a gap exists in understanding what these robots are as well as the implications for businesses.

Large company adoption of cobots is already occurring and benefits such as lower costs, increased safety, flexibility, and personnel efficiencies are the key driving factors for cobot demand in small and medium enterprises as well. More startups are entering the industry with new user-friendly cobot offerings, making the market increasingly competitive and diverse. Even with potential barriers such as high potential costs and significant planning, deployment, and training time, Tractica forecasts that the global cobot market will continue growing rapidly over the next few years, reaching revenue of $9.7 billion by 2025.
"New opportunities are opening in the market as makers develop cobots with higher payload capacities and speed. The integration of cobots with the industrial Internet of Things (IIoT) opens new possibilities for the coordination of cobots doing smart manufacturing with the rest of the automation processes," says senior analyst Glenn Sanders. "Humanlike abilities of perception, object recognition, gripping and manipulating objects, and dual grippers present the potential to drive greater demand in the coming years."
Tractica's report, "Collaborative Robots", examines the market issues surrounding cobots and presents 8-year revenue forecasts for the industry. The report discusses the crucial market drivers, challenges, and industry applications, in addition to assessing the most important technology issues that will influence market development. Tractica profiles the top 17 industry players, organized by pure cobot vendors, industrial robot vendors, end-of-arm tooling vendors, and software framework providers. An information bank of 82 key and emerging companies is also included in this report. Market forecasts, segmented by industry, payload capacity, and application, extend through 2025. An Executive Summary of the report is available for free download on the firm's website.
About Tractica
Tractica, an Informa business, is a market intelligence firm that focuses on emerging technologies. Tractica's global market research and consulting services combine qualitative and quantitative research methodologies to provide a comprehensive view of the emerging market opportunities surrounding Artificial Intelligence, Robotics, User Interface Technologies, Advanced Computing, and Connected & Autonomous Vehicles. For more information, visit www.tractica.com or call +1.303.248.3000.
Featured Product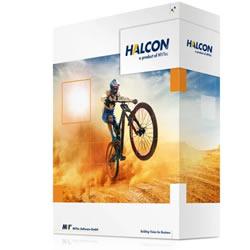 MVTec HALCON is the comprehensive standard software for machine vision with an integrated development environment that is used worldwide in all kind of industries. It enables cost savings and improved time to market. HALCON's flexible architecture facilitates rapid development of any kind of machine vision application. The software provides outstanding performance and a comprehensive support of multi-core platforms, special instruction sets like AVX2 and NEON, as well as GPU acceleration. The latest version HALCON 19.11 offers a wide range of new and improved machine vision functions. Particular emphasis was placed on the integration of further deep learning features. Now users benefit from massive simplifications for their applications, like faster inspection with anomaly detection, more transparency with the Grad-CAM heatmap and the support of ONNX format.