~ TS5000 released by Toshiba Machine ~
Toshiba Machine partner, TM Robotics, has introduced its TS5000 robot controller to the North American market. Engineered in Japan and boasting huge improvements in design and programmability, the new controller has been developed with Industry 4.0 in mind — forming a launch pad for the next generation of industrial robots from Toshiba Machine.

The controller release commemorates the beginning of the next generation of industrial machinery from Toshiba Machine. From April 2020, the company will return to its original name of Shibaura Machine to reflect its formal separation from the larger Toshiba Machine corporation and allow the company to focus solely on the development of advanced industrial robotics.
Designed for future factories, the new TS5000 controller is 33 per cent smaller than existing versions, for minimal impact on the factory footprint. Weighing just 10kg with dimensions of 370mm width, 150mm height and 355mm depth, the compact design of the TS5000 allows for easy installation.
Moreover, the new controller has dedicated ports for status feedback and control, allowing for more ports for priority communications, such as vision interfacing and system control. For non-protocol communication, the TS5000 boasts eight available port — a four-fold increase on the previous two ports of the TS3000 robot controller.
Other improvements include an increase in file storage, providing eight times more capacity than previous versions. The controller also has expandable storage up to 32GB with the addition of an SD card. This also increases the number of programs available and improves the potential of program size.
The controller is compatible with several machines from the TM Robotics product offering, which encompasses an extensive range of SCARA, six-axis and Cartesian robots. The compatible product line-up includes new releases, such as the THE600 SCARA robot, which was formally launched to the North American market at the Assembly Show 2019 in Chicago, Illinois.
"The TS5000 controller has been developed based on the TM Robotics ethos of delivering easy-to-use automation," explained Nigel Smith, President and CEO of TM Robotics. "For instance, because the new controller is maintenance free, manufacturers can rest assured they can operate robotics for long periods with minimal disruption and production downtime.
"Advanced robotic technologies, like the new TS5000 controller, are essential to achieve manufacturing growth in the United States. The nation already boasts one of the world's largest markets for industrial robots, having increased its number of robot installations for the eighth consecutive year in 2018. With the number of robots increasing, it is crucial that the quality of peripheral technology improves too."
TM Robotics supplies high quality industrial robots from Toshiba Machine (Shibaura Machine) in Japan. The full range of SCARA, six-axis and Cartesian robots — along with associated technologies, like the TS5000 controller — can be found on the TM Robotics website.
For further information please visit www.tmrobotics.com.
Featured Product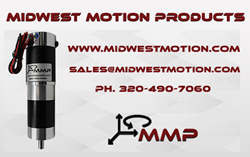 MMP specializes in supplying high-quality Brushed & Brushless DC Motors & Gearmotors for Robotics and Automation Equipment with a wide range of motor windings and gear ratios. With an impressive track record of more than 8,000 released DC Gearmotors designs and over 2,000,000 individual part numbers, we are renowned for our ability to handle large-scale orders. Due to our huge on-hand inventory, we are also well known for lightning-fast delivery of our standard products. We take pride in our dedicated customer service and our team of knowledgeable sales and engineering experts who are ready to assist you with custom design solutions tailored to your specific application. Additionally, we also offer a wide range of complimentary products, such as DC Motor Controls, DC Linear Actuators, AC-DC power Supplies, and DC Servo Amplifiers and others.