Maker of the world's most advanced building layout robot for the construction industry will use funds from NextGen Venture Partners and others to begin widespread commercial deployments
Mountain View, CA - December 16, 2019 -Dusty Robotics, developer of robot-powered automation for the construction industry, today announced that it has closed a $5 million seed round led by NextGen Venture Partners and joined by returning investors Baseline Ventures, Root Ventures, and Cantos Ventures. The financing brings Dusty's total funding to date to $7.2 million.

Founded in 2018 by seasoned robotics entrepreneurs Tessa Lau and Philipp Herget, Dusty builds automation tools to accelerate the digital transformation of the commercial construction industry. While buildings are today designed and modeled in software, they are built by hundreds or thousands of skilled laborers. Because onsite coordination is complex, the majority of construction projects go over budget and take longer than expected. Dusty's robots empower onsite crews to work more effectively together to deliver a faster, higher quality, and safer overall building process.
"The commercial construction industry is worth over a $10 trillion a year worldwide, yet it's one of the least automated. Thankfully, forward-thinking builders are embracing the latest technology tools to move into the digital age," said Tessa Lau, co-founder and CEO of Dusty. "Robotics is critical for construction because it creates a tight feedback loop between digital models and the job sites where work is done, eliminating manual steps and ensuring crews always build off the latest designs."
"Dusty Robotics is a cutting-edge technology company disrupting the commercial construction market, bringing much-needed automation to one of the world's largest industries," said Ben Bayat, managing partner at NextGen Venture Partners. "We invested in Dusty because we're confident the stellar team will succeed in bringing innovation to the construction sector, which is adopting new technologies at a rapid pace. Dusty's founders are seasoned roboticists and entrepreneurs who have developed a deep understanding of the construction industry and are building the right automation solutions to address key pain points."
Dusty's first product, FieldPrinter, is an autonomous mobile robot that prints layout plans—used to show crews where to build walls and other fixtures—directly onto the floors of job sites, completing the process 10x faster and more accurately than traditional methods. Using layouts created in Building Information Modeling (BIM) software, FieldPrinter streamlines the process of transferring layout plans into the field and enables crews to work more quickly and accurately, reducing errors and speeding up projects. FieldPrinter is used by contractors and subcontractors, particularly virtual design and construction (VDC) companies that manage the BIM coordination process and perform layout based on the BIM. Dusty began developing FieldPrinter in late 2018 and has continually tested the robot with pilot customers on actual job sites, including several large construction projects. For example, M.A. Mortenson Company, a nationwide builder, developer, and engineering services provider, istrialingFieldPrinteron its $1.9 billion NFL Allegiant Stadium project in Las Vegas.
"We're using the Dusty robot to perform layout on a nine-unit, four-story housing development in Oakland because it's a tool that can help maintain consistency between the hours spent upfront with project modeling and the onsite layout visuals our field crews are used to," said Scott MacLellan, principal at Gurnet Point Construction, a San Francisco-based general contracting company. "I've been waiting for a layout automation tool like Dusty to catch up with project modeling capabilities for over a decade; the robot performs a tedious and time-consuming task quickly and with great precision, enabling complex construction projects to stay on time and on budget."
Dusty's FieldPrinter solves a pressing problem: once a building has been designed in BIM software, communicating this design to the builders in the field involves sending printed documents to a field crew who then use measuring tools to manually mark layouts on the floor. The primary method for marking lines—a piece of string that is stretched between two points and snapped to draw a straight line—was invented by the Egyptians over 5,000 years ago and is still used today. FieldPrinter improves on trusted methods to provide crews with the most accurate layout plans. FieldPrinter prints all information from the BIM onto the floor, including layouts for each trade and details about wall types and door styles. What's more, FieldPrinter creates continuous progress reports and communicates field status back to project teams in real-time so they can respond to any issues. FieldPrinter closes the loop between BIM and the field, enabling crews to build exactly what was designed.
Dusty plans a wide-scale commercial launch of FieldPrinter in early 2020 to bring layout automation to dozens of construction sites. Dusty plans to offer FieldPrinter as a robot-as-a-service model with pricing based on the size and scope of the building project.
About Dusty Robotics
Founded in 2018, Dusty Robotics develops robot-powered automation for the construction industry, enabling builders to increase productivity, efficiency, and onsite safety. Dusty's advanced construction automation tools empower contractors and subcontractors to extend BIM models out into the field, eliminating many of the manual steps involved today in transferring building plans to onsite crews. Dusty's flagship product is FieldPrinter, an autonomous mobile robot that works with existing Building Information Modeling (BIM) designs to print layout plans directly onto construction-site floors. Founded by serial entrepreneurs and roboticists who have built several successful robotics companies, Dusty is backed by leading venture capital firms NextGen Venture Partners, Baseline Ventures, Root Ventures, and Cantos Ventures. For more information, please visit www.dustyrobotics.com.
About NextGen Ventures
Founded in 2012, NextGen Venture Partners works with over 1,100 Venture Partners to invest $1 million to $2 million in seed-stage companies and $2 million to $10 million in companies with more than $10 million in revenue. Our Venture Partners are top founders and innovation executives across the country whose expertise and connections help NextGen accelerate the growth of our portfolio companies. To learn more and see NextGen's portfolio, visit https://nextgenvp.com/
Featured Product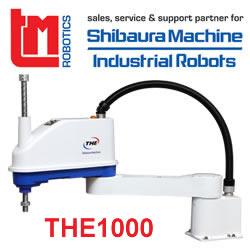 Designed for assembly and inspection applications in the electronics equipment and automobile components industries, the THE600 SCARA is a powerful automation tool. Advancing from the specifications of the existing THE400 SCARA, the THE600 has been developed to meet growing demand for fast-cycle automation. The THE600 model includes improvements in synchronised control and tracking precision. The THE600 is compact in design and offers improved high speed, with 60 per cent higher payload capacity than competing SCARA models in the same price range, making it the price-to-performance leader. Affordable price, impressive performance.