The agreement authorizes Exotic to distribute a wide variety of collaborative robots.
Exotic Automation & Supply, a premier motion & control supplier, announced today they are now a distributor for Techman Collaborative Robots. The agreement authorizes Exotic to provide customers with smart collaborative robots to increase productivity when performing repetitive, strenuous tasks.

Techman Robot entered the Robotics market in 2012 and specializes in safe and easy to operate robotics. The company offers a wide variety of collaborative robots which can lift up to 30 pounds and are designed to work alongside humans. The cobots are known as the smartest and easiest to use in the world thanks to their advanced features, including integrated vision, ease of programing and advanced safety.
"Techman Robots are equipped with integrated vision giving them the ability to read barcodes, recognize colors and match patterns or shapes," Dave Tunney, Electromechanical Product Manager with Exotic said. "This is a huge advantage for the average user. Traditional add-on vision solutions can be complicated, time consuming and costly to implement."
Techman Robots are also small and lightweight, allowing them to be moved to different machines and programed for different tasks. The robot does not require any coding skills and features a simple to use interface with graphic and flow chart-based HMI. Users can configure the robot's safety settings according the work environment and the robot will stop immediately while detecting the collision to protect user safety.
"Techman's safety and functionality made them an easy choice to partner with," Steve Orlando, Vice President of Sales & Marketing said. "We anticipate customers who encounter machine tending, pick & place applications and palletizing will experience great benefits with these Cobots."
For more information, please visit the company's website at http://www.exoticautomation.com/techman.
About Exotic Automation & Supply: Exotic Automation & Supply was founded in 1963 and has grown to become one of Parker Hannifin's largest distributors in the United States. Exotic's headquarters is located in New Hudson, Michigan. The company maintains full-service centers throughout Michigan & Indiana with locations in Ann Arbor, Freeland (Saginaw), Lansing, Taylor, Flint, Indianapolis, Jackson, Livonia, Noblesville, Rochester Hills, Shelby Township as well as at the main New Hudson complex.
Featured Product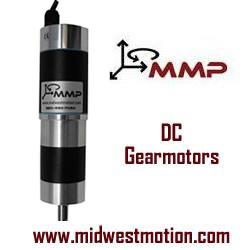 Midwest Motion Products, Inc. (MMP), is a well-established, healthy, & growing Family Owned Business, founded in 2001. MMP specializes in cost-effective standard DC Gearmotors, Motors, Controls, and ancillary equipment. Known world-wide for our "Lightning Fast" delivery capabilities, you can have a Standard Planetary or Right Angled DC Gearmotor BUILT and SHIPPED, often on the very same day you call. Offering Brushed and Brushless designs, with winding voltages ranging from 12 VDC to 120 VDC, we can deliver your "Robust & Reliable" samples within HOURS, instead of weeks, or even months.