Company experts will demonstrate extensive range of products and capabilities designed for use in implantable and external medical applications
Woking, UK, 29 January 2020 - TT Electronics, a global provider of engineered electronics for performance critical applications, will be exhibiting at MD&M West 2020, the world's largest medical design and manufacturing event, from February 11-13 at the Anaheim Convention Center in Anaheim, California. This year's conference offers attendees multiple workshops, technical sessions, networking opportunities, and panel discussions led by industry-leading speakers.

"TT has built significant competitive advantage in the healthcare and connected health arenas, tapping into our own electronics designs for a broad spectrum of medical applications," said Steve Carr, VP of Sales, TT Electronics. "With strong synergies amongst our business units, we have streamlined the supply chain, reduced time to market, and fuelled our mission to simplify the complex - values we're eager to share with MD&M West attendees."
TT Electronics will showcase the latest high-reliability sensors, specialist components, power supplies and IoT solutions. Company experts will be onsite to share the features and benefits of both new and existing capabilities and products, including:
• Ultra-fine wire winding - a patented technology and industry-leading expertise that sets TT Electronics apart from competitors; capabilities include winding wire as small as 58 gauge (.0004mm diameter or 1/10 the size of a human hair) using precious materials such as gold, silver and platinum as well as more traditional copper wire
• Connected devices for the Internet of Things - including home healthcare equipment and wearable devices
• Human machine interface - for medical equipment including the latest touch, sensor and display technologies
• Medical grade power supplies - including AC/DC solutions, open frame, Uchannel, wallmount desktop, and customized power converter designs certified to EN60601-1 3rd Edition
• Inductors and telemetry (antenna) coils - a spectrum of standard and customizable components used in pacemakers, defibrillators, neurological implants, and cochlear implants for communication with external programming devices and to filter and enhance signal integrity
• Field generation coils - components deployed in surgical navigation, internal diagnostic positioning, and Transcranial Magnetic Stimulation (TMS) systems used in bone healing, migraine treatment, and drug addiction therapy
• Liquid tube sensors - configured to optimize the design effort needed to use a fluid sensor with the addition of self-calibration circuitry; requires only an optical device and power supply
• Global Manufacturing Solutions - to meet low-volume, high-mix medical product requirements
• Value-added capabilities - to solve challenges associated with fine wire coils in the medical industry, TT offers industry-unique simulation design software, expert handling, termination, and microscope soldering, compliant to ISO 13485 standards and performed in a class 100,000 clean room; customers benefit from full product integration, streamlined logistics, and faster time to market
To learn more, visit the TT Electronics design and engineering team at MD&M West 2020 Booth #1628, or follow the company on LinkedIn and Twitter.
About TT Electronics plc
TT Electronics is a global provider of engineered electronics for performance critical applications. With nearly 5,000 staff members operating from 30 key locations around the world, TT designs and manufactures a wide range of electronics for sensing, power management and connectivity for applications in the industrial, medical, aerospace and defence and transportation sectors.
For more information about TT Electronics visit www.ttelectronics.com.
Featured Product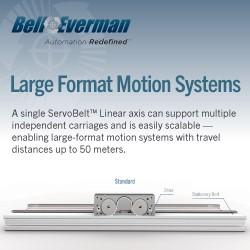 Manufacturing and packaging operations that still depend on manual material or parts handling operations can reap immediate benefits from a type of automation based on long-travel Cartesian robots with custom end-of-arm tooling (EOAT) and advanced sensing capabilities. These robots can support a variety of machines - performing otherwise manual tasks such as machine tending or transferring in-process parts - making long-travel Cartesian transfer robots a major upgrade to processes and operations. Download the White Paper from Bell-Everman