Industry-leading automation solutions provider Omron Automation Americas will be presenting brand-new models from two of its most popular product families, the MicroHAWK series and the LD mobile robots, at ATX West this February along with other traceability and flexible manufacturing solutions.
Hoffman Estates, IL., January 31, 2020 - The popular MicroHAWK family from automation solutions pioneer Omron Automation Americas just got a major upgrade, and brand-new models from the series will be on display at the upcoming Automation Technology Expo (ATX) West this February 11-13. MicroHAWK 2.0 - as the upgrade is called - adds new networking capabilities and improves upon the platform's overall configurability and performance.

By combining code reading and vision inspection into a single device, the MicroHAWK series is the ultimate solution for traceability, a key strategy for success in today's manufacturing world as well as that of tomorrow. Given that ATX West goal is to highlight technologies that propel the industry towards the future, Omron's complete traceability demos - including the new MicroHAWK as well as a laser marker, additional vision products and connected controllers - showcase a system that's essential for transitioning to Industry 4.0.
Traceability isn't the only aspect of Omron's expertise that will be on display at ATX West 2020. Omron is also an industry leader in robotics and automated materials transport, and its most recent mobile robot - the LD-250 - will be using powerful onboard navigation features to move throughout Booth #5095 on its own. Capable of carrying payloads of up to 250kg, the LD-250 can be used with other mobile robots to enhance manufacturing flexibility.
Manufacturers seeking an easy way to improve safety in their facility will get to see Omron's new safety light curtain in action at the show. The F3SG-SR helps reduce complexity and setup time by minimizing wiring connections and providing easy-to-see color indicators for quick verification of beam status and alignment. It also supports a broader range of manufacturing needs by providing the necessary ruggedness to function in harsh environments.
Anyone interested in seeing and interacting with the technologies that will build the factory of the future is encouraged to stop by the Omron booth in the Anaheim Convention Center. Visitors to Booth #5095 will also receive a personalized, laser-marked reusable straw as a part of the traceability demo.
About Omron Automation
Omron Automation is an industrial automation partner that creates, sells and services fully integrated automation solutions that include sensing, control, safety, vision, motion, robotics and more. Established in 1933 and currently headed by President Yoshihito Yamada, Omron's 36,000 employees help businesses solve problems with creativity in more than 110 countries. Learn more at automation.omron.com.
Featured Product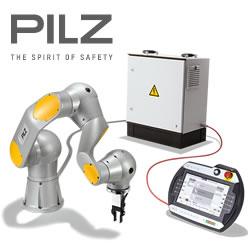 Our service robotics modules give you an easy start in robotics. Assemble your individual robot application - exactly according to your requirements: Service robotics modules consists of the manipulator module PRBT, the control module PRCM, the operating module PRTM and ROS modules. Our collision measurement set PRMS for human-robot collaboration (HRC) supports you reliably on your path to a safe application. Application areas of the service robotics modules can be found in service robotics and industrial environments. Benefit from our cost-efficient, flexible solution!