Yale places first in the AGV category and the maintenance, repair and operations category.
GREENVILLE, N.C. (Feb. 11, 2020) - Yale Materials Handling Corporation continued its streak of MHPN Product of the year awards, taking home first place in not one, but two categories. The Yale® robotic reach truck claimed first place in the AGV category, and the Yale Vision telemetry solution won first prize in the maintenance, repair and operations (MRO) category. This year marked the fifth edition of the awards program, with readers of Material Handling Product News casting 3,750 votes for products across 13 categories.

"With labor challenges, cost pressures and ever-increasing consumer demand continuing to stress today's supply chains, more businesses recognize advanced technology as a solution to work smarter," says Brad Long, Brand Manager, Yale Materials Handling Corporation. "Earning these recognitions from MHPN readers for our telemetry and latest robotic solution is further evidence that we're providing what the market demands - cutting edge solutions designed for practical impact."
The Yale ® robotic reach truck made its debut at ProMat 2019 in April. In addition to the navigation technology on other Yale® robotic solutions, the robotic reach offers vertical lifting capability, going as high as 30 feet and reaching into double-deep storage locations. It is an ideal fit for operations with growing inventories but limited square footage, pressuring them to maximize vertical storage capacity.
The Yale Vision telemetry solution won for its ability to help optimize maintenance operations. It presents critical performance data in easy-to-use dashboards, helping businesses manage lift truck fleets and refine service schedules based on actual data, rather than predetermined guidelines. The fault code monitoring feature sends automatic alerts to service personnel in the event of an issue like a loss of hydraulic pressure or controller damage, helping prevent minor issues from escalating to crippling unplanned downtime.
About Yale Materials Handling Corporation
Yale Materials Handling Corporation markets a full line of materials handling lift truck products and services, including electric, gas, LP-gas and diesel-powered lift trucks; narrow aisle, very narrow aisle and motorized hand trucks. Yale has a comprehensive service offering including Yale® Vision wireless asset management, fleet management, Yale service, parts, financing and training. Yale® trucks are manufactured in an ISO 9001:2008 registered facility and range in capacity from 2,000 to 36,000 lbs.
Yale Materials Handling Corporation is a division of Hyster-Yale Group, a wholly owned subsidiary of Hyster-Yale Materials Handling, Inc. (NYSE:HY). Hyster-Yale Materials Handling, Inc. and its subsidiaries, headquartered in Cleveland, Ohio, employ approximately 7,800 people world-wide.
YALE, and PEOPLE. PRODUCTS. PRODUCTIVITY. are trademarks, service marks or registered marks in the United States and certain other jurisdictions
# # #
Featured Product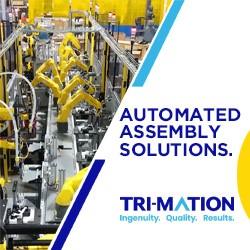 Tri-Mation reduces labor costs, improves accuracy, and production speed. Our integrators specialize in building automated assembly manufacturing systems for part production in any required volume or level of complexity.