Easy-fit fastening solutions fix cable protection securely but gently to cobot arms
In day-to-day practice, cables and lines are often fastened in a somewhat makeshift manner with cable ties to the round, smooth arms of "cobots" (robots which collaborate with humans without additional protection). Two new REIKU multipurpose fastening systems designed for different load levels now combine rapid, uncomplicated fitting with further advantages including very high slip resistance and gentle, virtually wear-free fixing of the cable protection. With their high reliability over a wide temperature range from -40°C to +80°C (with transient exposure up to 100°C), both systems help to ensure lasting, trouble-free cobot operation because they very largely prevent downtime due to damage to the cable protection and consequently to the wiring itself.

The new LSDFB series is suitable for slow to moderate cobot movement velocities under low load. Fastening is by means of a hook and loop strap which encircles the robot's arm. Available in two sizes, the LSDFB series can be used for arm diameters from 54 mm to 110 mm and corrugated tubing diameters from NW 17 to NW 29. The associated polyamide (PA) rotary plate means the cable protector can be guided as desired using the REIKU gripping clamps made from the same grade of polymer.
The other new series, MESUB, is designed for the higher dynamic and mechanical loads typical of industrial and palletising robots and combines a stainless steel clamp with pivot bolt screw fastening and a friction-enhancing rubber profile. Available in six variants, it is suitable for robot arm diameters of 54 mm to 108 mm and for fitting all REIKU gripping clamp variants, from NW 17 to NW 90, to the integral general purpose bracket. A special adapter plate allows REIKU rotary flanges to be used under the gripping clamps.
The cobot market is growing in leaps and bounds and analysts estimate it will be worth USD 3 billion by 2020. As Johann Kasper, product manager for robot cable guides at REIKU, explains: "Because many of these systems need to supply compressed air, hydraulic oil, control signals etc. separately to the working heads, they have lines arranged on the outside of the robot arm. REIKU customers can relax, though, because our cable protection conduits and the new fastening systems specifically developed for cobots minimise unscheduled system downtime."
The video viewable at http://cobots.reiku.com/ shows how quick and easy it is to fit cable protection conduits using REIKU's new fastening systems.
REIKU GmbH (www.reiku.de) is an internationally operating medium-sized company based in Wiehl, Germany which develops, produces and markets complete cable protection systems for static and dynamic uses in robotics and automation technology, in addition to bundling systems with a zipper style closure, plastic sheathing, corrugated tubing and fittings, heat protection fabrics and braided tubing. The company's products are designed to protect cables, conductors and other parts from contamination with foreign matter as well as from chemical, thermal or mechanical loads. Its portfolio of cable protection systems made of advanced engineering plastics extends from fittings through bracket systems and tube clamps to sophisticated system components which comprise connecting joints and cable stars in addition to jointed tubing, gripping clamps, conduit protectors and spring holders.
Featured Product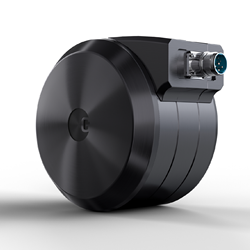 Welcome to the next generation of robotics and machinery. LiveDrive LDD is a unique direct drive motor that overcomes almost every limitation of servo geared solutions. A 50% reduction in length from typical geared motor is possible with Genesis direct drive motors. Choose to simplify machine designs and have a shorter footprint while having high performance, accuracy, and efficiency.