Automated parcel delivery technologies are growing due to the rise in consumer demand for faster deliveries
BOSTON, MA, MARCH 12, 2020 - The rise in e-commerce is fueling rapid growth in parcel delivery volumes, a market expected to grow to $665 billion by 2030. Consumers are increasingly expecting parcels to be delivered quickly. This demand is driving companies to explore using automated delivery technologies to cover the last leg of the delivery journey. Lux Research's new report, "Automating the Last Mile," predicts that automated last-mile deliveries will generate up to $48.4 billion in revenue by 2030, even though automated deliveries will only address 20% of all parcel deliveries.

Lux forecasts that the market for parcel delivery will grow from a total of 107 billion parcels delivered in 2019, generating $350 billion in revenue, to 289 billion parcel deliveries in 2030, generating $665 billion in revenue, resulting in a combined annual growth rate (CAGR) of 9.5% in parcel count and 5.8% in market value. "Most of this e-commerce growth is expected to come from Asia because China and India still have a relatively low amount of parcel deliveries per capita," said Lux Research Senior Analyst Chris Robinson.
Automated last-mile delivery technologies fall into four key categories: drones, legged robots, wheeled robots, and autonomous vehicles. Of these, autonomous vehicles paired with drones show the most promise, with Lux Research expecting them to deliver more than 20 billion parcels a year by 2030. Drones are currently limited to a small delivery radius, but this range can be extended by deploying them from a moving autonomous vehicle. Drone deliveries will be limited to uncongested rural areas, which have the lowest regulatory barriers to aviation. Wheeled robots are easier to develop than autonomous vehicles but are only feasible on college campuses where the incumbent delivery method is walking or bicycling. These deliveries are expected to account for only 1.5 billion deliveries annually by 2030.
"Robot-as-a-service business models are emerging in startups developing last-mile automated delivery technologies," said Lux Research Analyst Josh Kern. "Large companies that can invest in and develop their own technologies are not expected to use these services, but logistics companies and retailers with no experience in robotics likely will."
E-commerce companies globally have announced multibillion-dollar supply chain investments aimed at promising faster deliveries. Fulfillment center workflow optimizations, including automated picking and packing solutions, are crucial for shortening delivery times. "Today this is mostly manual, but advancements in robotic grippers, machine vision, and collaborative robotics are all improving the ability to automate these tasks," said Robinson. Full automation is likely more than a decade away due to increased complexity and handling of items.
About Lux Research
Lux Research is a leading provider of tech-enabled research and advisory services, helping clients drive growth through technology innovation. A pioneer in the research industry, Lux uniquely combines technical expertise and business insights with a proprietary intelligence platform, using advanced analytics and data science to surface true leading indicators. With quality data derived from primary research, fact-based analysis, and opinions that challenge traditional thinking, Lux empowers clients to make more informed decisions today to ensure future success.
For more information, visit www.luxresearchinc.com, read our blog, connect on LinkedIn, or follow @LuxResearch.
Featured Product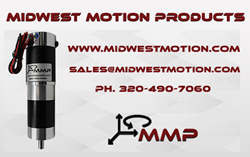 MMP specializes in supplying high-quality Brushed & Brushless DC Motors & Gearmotors for Robotics and Automation Equipment with a wide range of motor windings and gear ratios. With an impressive track record of more than 8,000 released DC Gearmotors designs and over 2,000,000 individual part numbers, we are renowned for our ability to handle large-scale orders. Due to our huge on-hand inventory, we are also well known for lightning-fast delivery of our standard products. We take pride in our dedicated customer service and our team of knowledgeable sales and engineering experts who are ready to assist you with custom design solutions tailored to your specific application. Additionally, we also offer a wide range of complimentary products, such as DC Motor Controls, DC Linear Actuators, AC-DC power Supplies, and DC Servo Amplifiers and others.