By automating manual digital caliper inspection, Q-Span Workstations increase consistency of small-part measurement and help quality teams achieve gage R&R targets
Victor, NY - March 16, 2020 - New Scale Robotics today announced its Q-Span™ Workstation Kit, the first application kit for quality inspection to be certified by Universal Robots and featured on the UR+ platform. The Q-Span Workstation Kit allows quality teams to automate measurement inspection of small parts. Deployed on a UR3e collaborative robot (cobot), the Q-Span Workstation Kit increases measurement consistency and helps quality teams to achieve gage R&R targets.

"New Scale Robotics is pleased to be in the vanguard of Universal Robots' new UR+ application kits for quality inspection processes," said David Henderson, CEO of New Scale Robotics. "Our application kit allows automation teams to independently deploy cobots with lower project risk and complexity, and enables faster deployment and payback."
The UR+ certified Q-Span Workstation Kit includes three precision gripper/caliper tools, standard metrology fingers, an example part with parts-in and parts-out trays, measurement fixtures, a workstation table, URCaps software, and robot programs that demonstrate pick-measure-record-and-place processes for the example part. All three gripper/caliper tools install easily on a single UR3e cobot and are controlled in one software interface. Quality teams can use the example part and demo programs as a starting point for automating inspection of their own parts.
Download High-Res Photo: Q-Span Workstation Kit
https://www.newscalerobotics.com/wp-content/uploads/q-span-kit-databkgd-urplus-2400x1350-highres.jpg
Watch the Video: Q-Span Workstation Kit Quick Tour
https://www.newscalerobotics.com/q-span-workstation-kit-quick-tour-video/
Custom-configured solutions also available
For users who prefer a complete solution, New Scale Robotics also offers Q-Span Workstation Solutions customized to the user's specific part and measurement task. A Q-Span Workstation Solution has part-specific metrology fingers, trays, fixtures, and robot programs and is ready to measure the user's first part upon delivery. The workstation solution includes delivery, installation, demonstration of first part inspection, and training.
Automatically measure small parts, make in-process decisions, and record the data.
Automate digital caliper measurements: pick, measure, record and place
Both the kit and the custom-configured solutions help quality teams in high-mix, small-batch manufacturing environments to automate the tedious manual process of measuring parts with digital calipers.
A Q-Span System picks up small parts, measures multiple dimensions, makes in-process decisions based on measurements (for example, pass/fail or sort by range), and places each part in the appropriate tray or bin. All data can be recorded to a PC for later analysis and statistical process control (SPC). Data can be monitored in real time to detect trends and alert operators to process drift.
"Whether you want a do-it-yourself kit, or a complete solution ready to measure your first part upon delivery, Q-Span Systems make it easy for quality departments to reap the benefits of automation in small-part measurement inspection," Henderson said. "Q-Span Systems easily fit into existing workflows and work spaces in the QC lab and in many production environments, and deliver return on investment in less than 10 months."
For more information
For more information download the Q-Span Workstation Kit product sheet:
https://www.newscalerobotics.com/wp-content/uploads/q-span-workstation-KIT-product-sheet.pdf
or
visit www.newscalerobotics.com/products/q-span-system
email NSRsales@newscalerobotics.com
call (585) 924-4450
About New Scale Robotics
New Scale Robotics makes smart automation tools for flexible manufacturing. Our products plug-and-play with collaborative robots to create agile solutions, with rapid return on investment (ROI), for high-mix, small-batch manufacturing operations. We solve problems requiring intricate part handling and precision part measurement. A Division of New Scale Technologies, Inc., we have nearly 20 years of experience delivering small, precise and smart embedded motion systems that make our customers more competitive.
Featured Product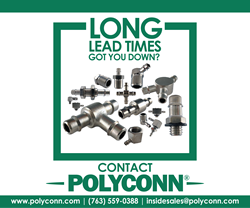 We can produce pneumatic hose and other pneumatic products to match your exact specifications. Our proficient engineering and quality management, coupled with outstanding customer service means Polyconn delivers high quality pneumatic components at competitive prices. Place your order or contact Polyconn for more information on our pneumatic hoses, pneumatic manifolds, Duratec® Pipe or any of our other top quality pneumatic products and components.