"Once Upon A Robot" writing competition and "Draw A Robot" design challenge invites entries from children in Key Stage 1 & 2, offering chance to win exciting and unique prizes
London, United Kingdom, March 18th 2020—The organisers of the popular annual UK Robotics Week celebration are today launching two brand new robot drawing and story competitions, and inviting primary schoolchildren nationwide to share their creative works inspired by all things robotic.

For the "Draw A Robot" competition, children in Key Stage 1 (aged 5 - 7 years old) have the chance to draw a robot that they'd like to see in the future. The robot could be designed to accomplish any task or job - the sky's the limit! The children will be able to submit a robot drawing, up to 200-word description, and five key features (labelled on the drawing). The "Once Upon A Robot" writing competition is open to all Key Stage 2 children (aged 7-11 years old), and challenges competition participants to write an 800-word story featuring any kind of robot their imagination can conjure. The story could take place on Earth, in space or even on another planet!
The two new competitions will be judged by robotics experts from the organising ESPRC UK-RAS Network, plus two very special invited literary and art & design judges. The drawing competition will be judged by Zoë Smith, Producer at Tate Kids, and the writing competition will be judged by award-winning writer A.F. Harrold, author of The Imaginary and the popular Greta Zargo series.
There are fabulous prizes on offer, including a Makeblock Programmable robot kit (courtesy of Pipebots), a Thames Komos Robotics Experiment kit (provided by Brains on Board), plus some unique and exclusive prizes courtesy of our guest judges. For more information, details of prizes, judging criteria and to submit an entry, please visit https://www.ukras.org/school-robot-competition/write and https://www.ukras.org/school-robot-competition/draw/.
Both competitions are open for entry now, and will close for entry on 8th May 2020. The winners will be announced on 20th June 2020.
EPSRC UK-RAS Network Chair Robert Richardson comments: "Robotics and science is often aimed at children with a focus on technology skills, so the aim of these two new competitions is to open up the fascinating world of robotics to younger children from a creative angle. We absolutely cannot wait to see what wonderful stories and designs our talented competition entrants come up with."
These latest competitions complement the established and successful School Robot Challenge - an app and online-based robot design challenge open to school groups aged between 8 and 14 years old. Competitions for students of all ages form a major part of the annual UK Robotics Week - a 7-day celebration of robotics science spanning hundreds of events up and down the country, including academic challenges, public lectures, open days, festivals, workshops and conferences. Now in its 5th year, UK Robotics Week is hosted by the EPSRC UK Robotics and Autonomous Systems (UK-RAS) Network, which provides academic leadership in robotics and coordinates activities across over 30 partner universities across the UK.
For more information on UK Robotics Week competitions and activities for children, please visit: https://www.ukras.org/robotics-week
----Ends----
Notes to editors
About Zoë Smith and Tate Kids
Zoë is a London-based producer and editor and the Producer at Tate Kids, a dedicated art website for kids age 5-13. Zoë produces, writes and designs content for kids that is playful, rebellious and engaging. Previous roles include creating in-gallery family interpretation and online art activities at the Royal Academy of Arts.
Tate Kids is the number one art website for kids. Play games, do quizzes, and learn about art and artists. Send in your artworks to be displayed on the Tate Kids Gallery.
@tate_kids on Twitter / Subscribe on YouTube
About A.F. Harrold (http://www.afharroldkids.com/)
A.F. Harrold is a poet, performer and children's author, who wrote the sci-fi comedy adventure Greta Zargo and the Death Robots from Outer Space (illustrated by Joe Todd Stanton), along with a whole bunch of other funny, spooky and strange books. He can often be found stroking his beard or sharing his poems and stories with kids in schools up and down the country, or sat behind his desk at the end of his garden staring into the distance and dreaming up whole new worlds.
About the EPSRC UK-RAS Network (https://www.ukras.org/)
The EPSRC UK Robotics and Autonomous Systems Network (UK-RAS Network) is dedicated to robotics innovation across the UK, with a mission to provide academic leadership in Robotics and Autonomous Systems (RAS), expand collaboration with industry, and integrate and coordinate activities at eight Engineering and Physical Sciences Research Council (EPSRC)-funded RAS capital facilities and Centres for Doctoral Training (CDTs) across the country.
For further information please contact:
PRESS CONTACT: Nicky Denovan EvokedSet Email: nicky[@]evokedset[dot]com Phone: +44 (0) 118 328 2782
Distributed on behalf of EvokedSet Ltd by NeonDrum news distribution service (https://www.neondrum.com)
Featured Product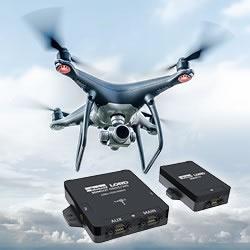 The C-series high performing inertial sensor package provides an OEM form-factor that is optimized for size and weight in Off Highway, Unmanned Ground Vehicles/Mobile Robots and Unmanned Aerial Systems. It's compact and low-profile anodized aluminum housing can be connected directly to a printed circuit board using a UART header or a Samtec FFSD ribbon cable and 2-56 fasteners.