Company grows in value as e-commerce market rapidly expands
OSARO, Inc, a rising leader in machine learning software for industrial automation, has received two prominent recognition awards within the last few months: CB Insights AI 100 list, and CNBC Upstart 100.

The AI 100 is CB Insights' annual ranking of the 100 most promising AI startups in the world. OSARO was selected from a pool of nearly 5000 startups, based on patent activity, business relations, investor profile, news sentiment analysis, proprietary Mosaic scores, market potential, competitive landscape, team strength, and tech novelty. Finalists included startups from 13 countries, which CB Insights says "are pushing the boundaries of AI research and commercial adoption across 15 industries and a broad-range of cross-industry applications."
In January 2020, OSARO was named to CNBC's Upstart 100. "Each year, CNBC scans the globe looking for the 100 venture-backed start-ups that have the potential to transform industries, by building and scaling businesses in the rapidly changing technology arena." Osaro was selected from a pool of 600 nominees worldwide.
"Osaro is honored to have received these recognitions, as it validates the hard work our team has completed to perfect our OSARO Vision and OSARO Pick products," said OSARO CEO and Founder Derik Pridmore. "Due to our successful operations in Asia for warehouse operators, our plans are to now expand market share in Europe and Australia."
OSARO Vision's deep learning algorithms are a key market advantage as these algorithms generalize picking tasks with minimal training data and no SKU registration for quick, scalable solutions. In addition, OSARO software supports a wide array of commodity hardware and robotic arms.
Investment in warehouse and logistics automation is expected to increase to $46 Billion by 2023, according to a report by Interact Analysis. OSARO's proprietary software enables industrial robots to perform diverse tasks in a wide range of environments, addressing growing labor shortages in fulfillment centers worldwide. The company is transitioning the automation industry from static robotic systems into dynamic solutions.
About OSARO
OSARO is a San Francisco-based machine learning company, specializing in AI software for industrial automation. Since 2015, OSARO's wider mission has been to build hardware-agnostic AI software that enables robots to function in a variety of environments and perform a diverse set of tasks. OSARO systems are compatible with various robots, sensors and existing integrator workflows for scalable, fault-tolerant robotic deployments. The company's cloud-based data and GPU infrastructure is designed for the most flexible, intelligent picking system on the market. OSARO began deploying its first solution, OSARO Pick, in Japan in early 2018. To date, Osaro has raised $29.3 million from prominent venture capital firms and strategic investors to increase its talent pool, international deployments, and to advance the OSARO Pick and OSARO Vision product lines to meet customer demands.
The company's flagship product, OSARO Pick, automates stationary picking stations in "goods to robots" distribution centers. OSARO's robotic piece-picking software has improved performance and efficiency in e-commerce order fulfillment and intralogistics for multiple customers, including top material handling companies. OSARO is working to expand into handling order fulfillment in electronics, apparel, groceries, pharmaceuticals, and many other industries.
For more information, additional photos and employment opportunities, please visit www.osaro.com or follow the company @osaroAI.
Featured Product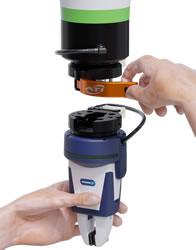 Simpler, stronger, and more precise. ATI Industrial Automation has developed a series of Manual Tool Changers that provides a cost-effective solution for quickly changing tools by hand. They feature a unique design that combines high strength, excellent repeatability, and a patent-pending screw-cam locking mechanism with multiple fail-safe features, which resists vibration and prevents loosening. These robust and compact Manual Tool Changers can handle payloads up to 80 pounds (36 kg) and pass pneumatics and electrical signals.