Top robotics researchers invited to submit breakthrough solutions to aid global response to current and future pandemics
London, United Kingdom, April 24 2020-The EPSRC UK-RAS Network, organisers of UK Robotics Week, today announce the addition of a major new Medical Robotics for Contagious Diseases Challenge to this year's programme - inviting the leading robotics research teams from across the world to submit innovative ideas that could offer solutions as part of a multi-faceted response to the current COVID-19 health crisis and future global pandemics. The Challenge is open for entries now at https://www.ukras.org/robotics-week/challenges/medical-robotics-for-contagious-diseases-challenge-2020/

The competition - run as part of the EPSRC UK Robotics & Autonomous Systems (UK-RAS) Network's annual UK Robotics Week celebrations - will take place entirely online, with flexibility for remote working. Teams will be competing for a prize fund of £15,000, offered by the Challenge's generous sponsors Intuitive Surgical, The Wellcome Trust and Imperial College London. Challenge finalists will have the opportunity to present their ideas to a prestigious and highly experienced international judging panel, which will include:
Professor the Lord Darzi of Denham, Co-Director of IGHI, Professor of Surgery Imperial College London, UK
Simon Di Maio, Director, Research, Intuitive Surgical, USA
Professor Russell H. Taylor, John C. Malone Professor, Johns Hopkins University, USA
Dr Cyrill von Tiesenhausen, Business Development Manager, KUKA Deutschland GmbH, Germany
Professor Robert Richardson, Chair of the EPSRC UK-RAS Network said: "The global community is facing an unprecedented challenge as a result of the COVID-19 crisis. What we are seeing is that now, more than ever, medical robotics and robotics platforms have a key role to play in the response to COVID-19, and in tackling future pandemics - from robots disinfecting hospitals to delivering vital supplies, supporting testing, infection control and performing surgery. The COVID-19 pandemic offers a unique opportunity to galvanize medical robot technologies, and we hope this challenge will offer an opportunity to celebrate current work in development that seek to offer solutions as part of a multi-faceted response to this and future global pandemics."
Applicants are asked to submit a 2-minute preview video by September 30th 2020, and entries will be reviewed and accepted by October 14th 2020. The final 2-minute preview video, presentation and two-page paper will need to be submitted by October 28th 2020, and finalist teams will be invited to give an online presentation and take part in a videoconference interview with the judging team on November 6th 2020.
The UK Robotics Week is organised annually by the EPSRC UK-RAS Network, established in 2015 with the aim of bringing together academic centres of excellence, industry, government funding bodies and charities, to strategically grow the UK-RAS research base, acting as a portal to interface with industry and deliver technological advances for translational impact.
Medical Robotics for Contagious Diseases Challenge - Key Dates:
Deadline for submission of video entries: September 30th 2020
Review and acceptance: October 14th 2020
Deadline for final video, presentation & two-page paper: October 28th 2020
Online presentation and interview: November 6th 2020
For more information about the Medical Robotics for Contagious Diseases Challenge, and all the Challenges being held as part of UK Robotics Week, please visit: https://www.ukras.org/robotics-week/challenges/
Ends -
About the ESPRC UK-RAS Network (https://www.ukras.org/)
The EPSRC UK Robotics and Autonomous Systems Network (UK-RAS Network) provides academic leadership and expands collaboration with industry while integrating and coordinating activities at EPSRC funded RAS capital facilities, Centres for Doctoral Training (CDT) and partner universities. Since its foundation, the UK-RAS Network has helped transform the UK-RAS research landscape, bringing cohesion to the research base, enhancing capital facilities across the country, supporting education programmes and public engagement activities at all levels.
For further information please contact:
PRESS CONTACT for EPSRC UK-RAS Network: Nicky Denovan EvokedSet Email: nicky[at]evokedset[dot]com Mobile: +44 (0)118 3282782
Featured Product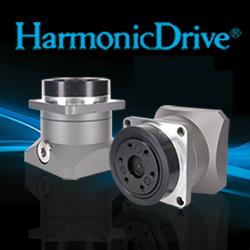 Harmonic Drive LLC, a leader in high precision motion control introduces new lightweight versions of select gearhead products. The new gearheads are ideal for designs where weight is a critical factor. Building on the success of Harmonic Drive LLCs current gear units, new lightweight versions were the next logical evolution of the CS/ SH product lines. With weight reductions of 20-30% without any reduction in torque ratings, the Lightweight (LW) gear units provide exceptional torque density.