The Internet of things is a scalable and automated solution that has seen abrupt growth in almost every industry.
VIMAN NAGAR Pune, Maharashtra, April 28, 2020: The Internet of things is a scalable and automated solution that has seen abrupt growth in almost every industry.\

Previously Business Analysis was only executed in large companies, with high authorities and managing larger teams that spanned IT, marketing as well as finance. It is necessary to realize that business analysts are essential for an organization's success.
Let's see how this role is Changing
Business analysts who can sharpen their IoT competencies will improve maximum business value with their business knowledge and their understanding of IoT technology.
And as the Internet of Things (IoT) drives more intelligence to more devices that spread into every aspect of our lives, Business Analysts will require pointing out their existence into the Use Cases that drive business today.
They are able to articulate how the IoT technology or IoT platform works, scope and effect of change and which legacy processes or functions need to be reanalyzed to be compatible with the new transformation initiative.
Along with a primary task, if you are a BA for an IoT project, then you should also have fine knowledge of servers, databases as well as the client's software system and technology.
Those skills will help you to engage in thorough technical discussions and analysis with SMEs, Programmers & Engineers, which will help to improve the efficiency of business operations.
BAs for IoT Project requires planning such requirements to a set of features that can be executed within the project budget as well as timescale.
Business Analysts who expand their knowledge and experience in how IoT impacts customer experience, buying journeys and business models they can stand out from the others and drive their careers towards the future.
Combine your coding skills along with your BA skills and you are now ready to work on IoT projects.
Links
To know more about IoT Business Analyst: https://www.hiotron.com/iot-evolving-role-business-analyst/
About hIoTron
Hiotron Pvt.Ltd (hIOTron's) provides a practical study for various IoT cloud platforms. Hiotron had deployed over 21000 IoT Devices. hIoTron's IoT platform helps businesses to connect and manage data securely.
It also Develops, supports and manufactures IoT platforms and serving 55+ Fortune Enterprises.
hIOTron offers an Industrial IoT Solutions over such a platform with IoT Training Online with which you can easily come up with new ideas and techniques. Those training will be building up with the help of various techniques
Featured Product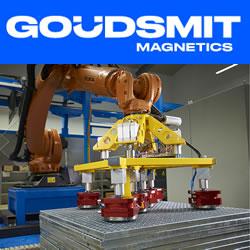 Magnetic robot end-of-arm tooling are suitable for the automated pick-up and positioning of steel or other ferromagnetic objects. They can be switched on and off and have a threaded mounting hole for robots. Magnetic grippers are an efficient alternative for traditional robot grippers. Application in automated production lines and for robots and pick-and-place systems. Magnetic product handling reduces the duration and number of operations. Goudsmit Magnetics is driven by magnetism since 1959. See how it works: https://youtu.be/hcXJ98mXHZE