Registration is open for online conference and products showcase running May 18-22
ANN ARBOR, MI - May 12, 2020 -- Four exclusive keynote sessions have been scheduled for AIA Vision Week, a new virtual conference and products showcase from AIA and the Association for Advancing Automation (A3). The online event will be offered to attendees free-of-charge and runs May 18-22. Registration is open, and attendees will have the opportunity to listen to the four keynotes plus 30 more sessions delivered by industry experts.

"The timing of AIA Vision Week couldn't be better," said Dave Spaulding, AIA Vision Week Executive Roundtable panelist and president of Smart Vision Lights. "As we all look forward to the new normal in the automation industry, there are certainly a lot of questions regarding what this will look like for our businesses and the industry as a whole. I believe this will create new opportunities for those that are able to shift quickly through innovation and new partnerships. The way we used to go about our business is changing and will continue to do so."
AIA Vision Week is sponsored by Advanced Illumination, Allied Vision, Euresys, IDS Imaging Development Systems, Inc., Matrox Imaging, Phase 1 Technology Corp, and Teledyne Imaging. Sponsorship opportunities are still available.
Expert Keynote Speakers
• Innovative Machine Vision Applications at Procter & Gamble
Mark Lewandowski, Robotics Innovation Technical Section Head, Procter & Gamble
Lewandowski will discuss how the global manufacturing giant is leveraging machine vision and machine learning technologies in its latest application -- and what advances P&G sees on the horizon. (11:30 a.m. ET, Monday, May 18)
• Decoding Mixed Reality for Enterprise
Rajat Gupta, Director, Business Development - AI and MR, Microsoft Corp.
The goal of this presentation is to inform the audience of the applicability and current state of Mixed Reality technologies in the enterprise. As companies make digital transformation decisions as part of cyclic industrial evolution and macro-economic indicators such as COVID-19, it is imperative to balance immediate deployment of new technologies with planning for the future. (11:30 a.m. ET, Tuesday, May 19)
• Panel: Vision Standards Update - Hardware Interface Standards
Learn about the latest updates in vision industry standards. Standards discussed will include: GigE Vision, USB3 Vision, Camera Link, Camera Link HS and CoaXPress. (9:45 a.m. ET, Wednesday, May 20)
Moderator: Bob McCurrach, AIA Director of Standards Development, Association for Advancing Automation
Panelists include:
Friedrich Dierks, GenICam Chair and Director Research and Development, Basler
Eric Bourbonnais, GigE Vision Chair and Software Design Leader, Teledyne Imaging
Eric Gross, USB3 Vision Chair and Senior Engineer, National Instruments
Mike Miethig, Camera Link HS Chair and Technical Manager, Teledyne Imaging
Chris Beynon, CoaXPress Chair and CTO, Active Silicon
• The State of the Vision Industry Executive Roundtable
Join us as we interview leading executives on the current state of the machine vision industry and the opportunities and challenges of the COVID-19 pandemic. Attendees will have the opportunity to ask these executives questions during the live discussions. (11:30 a.m. ET, Wednesday, May 20)
Moderator: Alex Shikany, AIA/A3 Vice President
Panelists include:
Samuel P. Sadoulet, President and Chief Operating Officer, Edmund Optics
Steve Wardell, Director of Imaging, ATS Automation and chair of AIA Board of Directors
Dave Spaulding, President, Smart Vision Lights
Dr. Dietmar Ley, CEO, Basler
"The opportunity to share experiences during these challenging times is critical to the development of our industry," said Samuel P. Sadoulet, president and COO of Edmund Optics and AIA Vision Week Executive Roundtable Panelist. "The situation has forced many companies to innovate their business, hopefully creating stronger organizations for the future."
Five Virtual Session Tracks
These keynote sessions will compliment a full schedule of content featuring industry leaders and innovators. Each day features a different theme related to vision and imaging. The tracks include:
• Getting Started with Vision, Monday, May 18
• Advances in Machine Vision Integration & Applications, Tuesday, May 19
• Vision & Medical Applications, Wednesday, May 20
• AI & Machine Learning in Vision, Thursday, May 21
• Vision & Robotics, Friday, May 22
View the full agenda here.
Sessions will highlight the latest innovations in vision and imaging technologies. Powered by machine learning and embedded processing, vision and imaging solutions are providing the gateway into new applications for manufacturing, medicine, pharmaceuticals, agriculture, and autonomous robots and vehicles. Vision solutions have made great strides and are now easier to implement and are immediately effective. As data becomes the key to business success, vision systems are become a critical tool in capturing information that will empower process optimization, enterprise analytics and artificial intelligence solutions.
Vision Products Showcase
Attendees will be able to access more than 100 participating companies. Companies will feature their latest product innovations in the showcase. Attendees can connect with key suppliers and access videos, product specific downloads and learn about the companies.
AIA Vision Week can help attendees improve business now or prepare them - as the COVID-19 crisis subsides -- to ramp up to take advantage of backlogged orders and increased automation demands.
"Given that we are in the middle of a pandemic no one planned for, it's interesting to observe how both the public and the commercial worlds are reacting," said Steve Wardell, director of imaging, ATS Automation; chair of AIA Board of Directors, and AIA Vision Week Executive Roundtable panelist. "I am concerned and somewhat optimistic as to how the vision industry itself will be affected. From what we are seeing already, certain market spaces and industry sectors will fare better than others. I think our industry is well positioned and look forward to discussing that with other industry leaders on the 20th."
AIA expects attendees from across the globe to participate in AIA Vision Week who are users of vision and imaging technologies, system integrators, machine builders, OEMs, and manufacturers of imaging technology, collaborative robots, drones, augmented reality systems, and more.
About Association for Advancing Automation (A3)
The Association for Advancing Automation is the global advocate for the benefits of automating. A3 promotes automation technologies and ideas that transform the way business is done. A3 is the umbrella group for Robotic Industries Association (RIA), AIA - Advancing Vision + Imaging, Motion Control & Motor Association (MCMA) and A3 Mexico. RIA, AIA, MCMA and A3 Mexico combined represent over 1,275 automation manufacturers, component suppliers, system integrators, end users, research groups and consulting firms from throughout the world that drive automation forward. For more information, visit: A3, RIA, AIA, MCMA, A3 Mexico.
The association hosts a number of industry-leading events, including the International Robot Safety Conference (October 13-15, 2020 in Columbus, OH), CRAV.ai (October 26-27, 2020 in San Jose, CA), the Autonomous Mobile Robot Conference (October 28, 2020 in San Jose, CA), and the Robot Grinding & Finishing Conference (December 2-3, 2020 in St. Paul, MN). Other events include the A3 Business Forum (February 1-3, 2021, in Orlando, FL), and the biennial Automate Show & Conference (May 17-20, 2021 in Detroit, MI).
Featured Product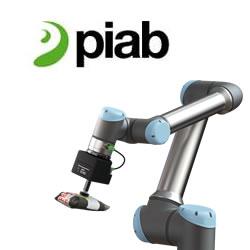 Piab's Kenos KCS gripper enables a collaborative robot to handle just about anything at any time. Combining Piab's proprietary air-driven COAX vacuum technology with an easily replaceable technical foam that molds itself around any surface or shape, the gripper can be used to safely grip, lift and handle any object. Standard interface (ISO) adapters enable the whole unit to be attached to any cobot type on the market with a body made in a lightweight 3D printed material. Approved by Universal Robots as a UR+ end effector.