Doodle Labs is excited to release the RM-3625 Smart Radio operating at the CBRS Band to enable commercial wireless applications for Industry 4.0.
Doodle Labs is excited to release a new model of the Smart Radio that operates at the CBRS band (Citizens Broadband Radio Service @ 3550-3700 MHz). The CBRS band is a large swath of newly unlicensed spectrum - dubbed the "Innovation Band" by the FCC — to promote the development of the next wave of commercial wireless applications for Industry 4.0.

The shared spectrum rules governing this band provide interference protection even for license free operation. The RM-3625 Smart Radio (link below) enables deployment of low latency private wireless networks for Industrial IoT use cases. It provides a higher performance and significantly lower cost alternative to LTE Band 48 equipment.
Doodle Labs extended its patented Mesh Rider™ (link below) technology to meet the regulatory requirements of the CBRS band. The innovative RM-3625 Smart Radio can be configured to operate in both the Citizens Band Radio Service Device (CBSD-A) and End User Device (EUD) roles for mobile Industrial IoT use cases. Mesh Rider is an advanced RF and networking technology for long-range communication. Customers regularly stream low latency HD video from up to 20 km away (field proven for 116 km telemetry link).
The new RM-3625 model joins an extensive portfolio of Smart Radios that operate at various frequencies in the 100 MHz to 6 GHz range. "We're excited with our CBRS solution. Similar to our Industrial WiFi products, this CBRS model opens up a new set of opportunities for our customers in many industry verticals and especially in the fast growing Autonomous/Unmanned Ground Vehicles sector," said Amol Parikh, VP of Marketing at Doodle Labs.
Doodle Labs has worked closely with Federated Wireless to ensure the interoperability of Mesh Rider™ and the Shared Access Spectrum (SAS). "We knew that CBRS would open up opportunities for innovation in the wireless ecosystem, and we think the new RM-3625 is a great example of that," said Becky Bobzien-Simms, VP Operations, Federated Wireless. "We are pleased to welcome Doodle Labs into our Partner Program."
Links for more information:
- RM-3625 Smart Radio Overview: https://doodlelabs.com/products/smart-radio/smart-radio-cbrs-rm-3625-overview
- CBRS with Mesh Rider: https://doodlelabs.com/technologies/cbrs-with-mesh-rider-intro
Featured Product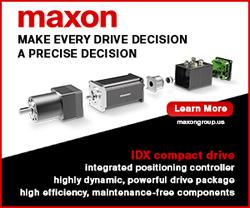 Discover the world of drive technology from a leading worldwide supplier of innovative customized drives. - Manufacturer of brushed and brushless DC motors, gearheads and motion controllers - Custom drive systems, quantities as low as a single unit - Certified for aerospace and medical applications