Schmalz invites visitors to the SchmalzEXPO, the first virtual vacuum technology trade show. Trade professionals can thoroughly acquaint themselves with new products and innovations thanks to videos, 360-degree views, and image galleries.
Trade shows and conferences are unthinkable at the moment. Schmalz is thus pursuing a different path to present its new products to a wide range of trade professionals. SchmalzEXPO, the virtual vacuum technology trade show, has been underway since the beginning of May - without any need for masks and minimum distancing requirements.

Schmalz 2020 tradeshows were already planned - from the robotics zone to new products in vacuum automation and digital services. However, that was before the coronavirus pandemic struck and all events were canceled. "We set up live chat and video consultation in a short amount of time to enable us to still provide our customers with the competent consultation they expect from Schmalz," explains Thomas Wölpert, Head of Sales Germany at J. Schmalz GmbH. Furthermore, the vacuum specialists organized their own virtual vacuum technology trade show for the first time ever, which can be accessed after free registration at https://expo.schmalz.com/.
Once registered, visitors see an animated 3D booth directly in front of them. Thomas Wölpert welcomes visitors and provides information about the booth's highlights. The Vision and Handling Set 3D-R, the bin-picking solution for automated bin-picking, as well as the Schmalz Connect Suite are among the new products featured. Users can view the data of all IO-Link-compatible components from any manufacturer at any time via the software. It is also possible to analyze and parameterize individual devices without having to manipulate the controller.
The SchmalzEXPO is divided into five sections: new products, gripping solutions for robotics, digital services, manual handling, and an auditorium where numerous expert presentations can be accessed. Visitors obtain detailed product information via videos, 360-degree views, and image galleries. "It is important for us to advise our virtual trade show guests just as competently as if they were live on-site, which is only possible through personal contact," emphasizes Thomas Wölpert. "That's why we also set up a live chat and offer individual telephone and video consultations."
Featured Product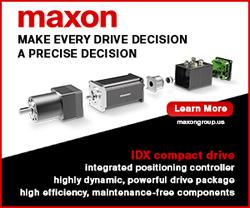 The compact brushless EC-i motor combined with an EPOS4 positioning controller delivers a highly dynamic, powerful drive package with field-oriented control (FOC), high efficiency, and maintenance-free components in a high-quality industrial housing. The maxon IDX drives are suitable for use across the entire speed range (from standstill to maximum speed) and have an extremely high overload capability. Together with a positioning controller, the integrated sensor (single turn) enables absolute positioning.