Alpen Co., Ltd., aims for a 60% reduction in logistics operations plus benefits from Japan's first 3D robot warehouses
BOSTON, MA, September 17, 2020 - Alert Innovation, Inc., the maker of the retail industry's most effective automated fulfillment solutions, and Murata Machinery, Ltd. (Muratec) are supplying Alpen Co., Ltd., one of the largest sports retail brands in Japan, with that country's first 3D robot warehousing system. Called Alphabot®, the solution being installed at Alpen distribution centers uses robot cart technology developed by Alert Innovation, which formed a strategic partnership with Muratec in 2019, to automate everything from storage to picking.

Alpen is expanding its outlets nationwide to meet the diversifying needs of customers in the sports retail industry under the corporate slogan "Making sports more accessible." As part of this expansion, the retailer is implementing Alphabot warehousing systems featuring 130 robot carts selecting from about 26,000 case locations at its distribution centers.
"We are delighted to see our partner Muratec winning business with the Alphabot solution in a highly competitive market. This is a validation of both the capabilities of Muratec as a company and the breakthrough design of Alphabot. We look forward to seeing many more deployments of the technology by Muratec in the future," said Alert Innovation CEO and Founder John Lert.
Alpen and Muratec expect the Alphabot system to reduce logistics operations by complementing its storage capacity and reducing picking, sorting and packaging activities by approximately 60%. Other benefits from the introduction of the Alphabot system include expanding the range of SKUs handled, enhancing worker productivity and improving sorting and shipping efficiency.
About Alert Innovation, Inc
Founded in 2013, Alert Innovation's mission is to improve people's lives through innovation, starting with retail, by transforming how people shop and how retailers operate. Alert Innovation has brought to market the Alphabot Automated Storage and Retrieval System and Automated Each-Picking System and is creating a new kind of automated supermarket called Novastore™. More information is available at http://www.AlertInnovation.com
Featured Product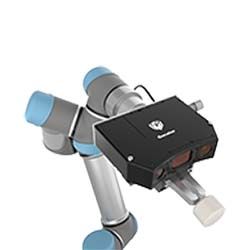 Easily integrate Gocator® 3D line profile and snapshot sensors with a variety of industrial robots to deliver high-performance 3D results in vision guidance, flexible inspection, material dispensing, and automated assembly with smart pick-and-place. Adding 3D vision to a robot turns repetitive, fixed motion into smart movement that can unlock greater value for your automation investment.