Pre-engineered for delivery in as quickly as ONE WEEK.
Waukesha, Wis. [Oct. 12, 2020] ⎯ Now is an especially challenging time for machine shops facing capacity shortfalls and labor shortages. To address these struggles, Acieta introduces its simplest to use, most flexible cobot solution ever: the FastLOAD CX1000 collaborative expandable robotic cell.

To prevent shop equipment from sitting idle, the FastLOAD CX1000 is mounted on a mobile platform that one worker can move easily so it can be quickly set up at different machines around the shop. The system is equipped with a FANUC 10KG, 120 V collaborative robotic arm to master material handling tasks. It can be outfitted with up to three modular carts to handle a wide variety of parts or allow more parts in the queue.
"The FastLOAD CX1000 is pre-engineered to meet the most common machine tooling needs so it's ready for delivery and installation within one week," said Jake Corning, Product Manager at Acieta. "With the benefits of higher throughput and lower operating costs, users see a return on investment in 18 to 24 months."
An intuitive touch screen interface makes programming very simple. Setup takes hours, not days. The FastLOAD CX1000 has a small footprint and doesn't require safety fencing, so it takes up approximately 80% less floor space than a traditional robotic cell.
Operators work beside the FastLOAD CX1000 to load and unload parts while the robot works continuously on up to two machines, thus doubling throughput. Force sensors stop the robot when pressure is applied, ensuring a safer application for the operator.
"Giving the dull and repetitive tasks to robots allows employers to reallocate skilled workers into more challenging and valuable jobs such as quality control and parts design," Corning said.
For more information about the FastLOAD CX1000, visit acieta.com/cx1000 or call 844-4-ACIETA.
About Acieta: A leader in the robotics business for over 37 years, Acieta provides a wide range of robotically automated solutions and services for the manufacturing industry. With locations in Waukesha, Wis., and Council Bluffs, Iowa, Acieta has integrated more than 5,000 automation systems for customers across the United States, Mexico and Canada. As part of its mission to be a true partner to its customer base, Acieta is committed to solving challenges facing all manufacturers, such as lowering costs, increasing productivity and addressing labor shortfalls. Learn more at:www.acieta.com.
Acieta is a leading FANUC Authorized System Integrator and member of the RIA Certified Integrator group.
Featured Product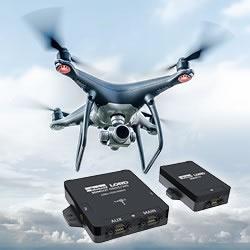 The C-series high performing inertial sensor package provides an OEM form-factor that is optimized for size and weight in Off Highway, Unmanned Ground Vehicles/Mobile Robots and Unmanned Aerial Systems. It's compact and low-profile anodized aluminum housing can be connected directly to a printed circuit board using a UART header or a Samtec FFSD ribbon cable and 2-56 fasteners.