The global drone logistics and transportation market was valued at $ 9.9 Bn in 2019 and the market is anticipated to grow significantly from 2020 to 2030 and the market is expected to grow at a CAGR of 16% during the forecast period.
Increasing investment in product innovation, expansion of e-commerce industry, a proliferation of the Internet of Things (IoT), and expanding applications of drones in fright movement are the key forces positively influencing the growth of the global drone logistics and transportation market. Drones are increasingly used across wide industrial applications. Primarily developed to be used for military applications, drones have made a long way into commercial applications. Used extensively for freight movement across the globe, drones are gaining popularity in passenger movement with increased product innovation. The drone logistics and transportation market is highly competitive with an increasing number of drone service providers.

We Provide You Updated Sample Report, Download FREE SAMPLE PDF (Including Full TOC, Table & Figures) @ https://www.insightslice.com/request-sample/481
UAVs forecast to be the most dynamic growth sector of the global aerospace industry. This expanding use of unmanned systems is due to advances in technology and reductions in size, risks, and costs that remotely operated systems offer. With new commercial applications emerging at rapid rates, commercial drones are forecast to witness massive increase in sales and registration.
Benefits offered by drone to businesses include greater efficiency of operations; reduced costs; ability to handle risky operations without human interventions; ability to collect, retrieve and interpret data with unmatched accuracy and speed and continues innovation in advanced capabilities and functionalities that support continuous expansion of applications; among.
Few of the emerging applications for commercial drone include use of drones for generating video tours for customers in real estate; drone based surveillance; drones for environmental monitoring; drones for oil & gas pipeline inspections; agricultural drones for crop spraying; drone based same-day delivery of e-commerce orders; drones for land surveying, search and rescue; drones for emergency response services; and drones for road construction and other infrastructure projects. Another new and fairly new use of drones is in pandemic management.
Growth Drivers
Need for quicker delivery of goods, the mounting requirement for sophisticated industry-specific analytical solutions, reduction of strict restrictions on the usage of drones for commercial reasons, and escalating investments in the drone delivery market are the primary growth drivers for the drone logistics and transportation market.
Opportunities for vendors at different levels of the value chain, usage of drones for cargo delivery in military operations, and drone delivery services in geologically challenging areas are also facilitating the growth for the drone logistics and transportation market.
Challenges
Concerns of bandwidth and battery life, restrictions on the commercial usage of drones, issues related to delivery authentication and cybersecurity, concerns concerning safety during travel and package drop, and lack of trained and skilled personnel are the major challenges for the growth of drone logistics and transportation market.
Major players active in the global drone logistics and transportation market include Amazon.com Inc., CANA Advisors, DHL International GmbH, Drone Delivery Canada, DroneScan, FedEx, Hardis Group, Infinium Robotics, PINC Solutions, Skysense, Inc., Uber Technologies Inc., Unifly NV, United Parcel Service of America, Inc., and Volocopter GmbH.
For a better understanding of the global drone logistics and transportation market, analysts have segmented the market.
The global market is segmented on the basis of drone type, solutions, end-use, and geography.
Based on drone type, the global market is segmented into freight drones, passenger drones, and ambulance drones.
Based on solutions, the global market is segmented into infrastructure, shipping, warehousing, and software.
Based end-use, the global market is segmented into commercial and military.
Based on geography, the global drone logistics and transportation market is segmented into North America, Europe, Asia Pacific, Middle East & Africa, and South America.
Contact Us:
insightSLICE
Email: 
info@insightslice.com
Phone: +1 (707) 736-6633
Website: 
https://www.insightslice.com
Follow Us: 
LinkedIn
|
Twitter
Featured Product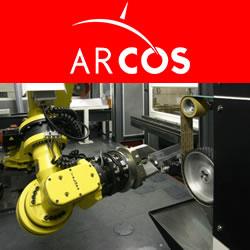 Robotized system for automatic cutting and grinding turbine blades , starting from the rough product. The system is equipped with fully automatic component loading and unloading. Approved 3M Robotics System Integrator.