Industry-leading automation solutions provider Omron Automation Americas recently announced a new TÜV Rheinland Functional Safety for Technicians training program to help companies deepen their employees' understanding of the safety requirements and expand their expertise in safety system maintenance and operation.
A new training program is available through global automation leader Omron Automation Americas for companies interested in helping their team gain a solid understanding of safety system maintenance. The program, TÜV Rheinland Functional Safety for Technicians, is an excellent way for companies to help ensure compliance with functional safety regulations and to protect their employees from injuries in the workplace.

Omron is proud to be a trusted partner in TÜV Rheinland functional safety training for industry professionals. This 2.5-day training session is designed for maintenance professionals and other industrial technicians and includes an exam at the end. Successful students will receive TÜV Rheinland Certification as a Functional Safety Technician and will be listed on the TÜV Rheinland Certipedia.
Topics covered include general safety concepts, advantages and disadvantages of various safety components, validation of operation for common safety components, safe distance calculation, maintenance and repair of safety systems, and "safe" modification of existing systems for temporary situations.
Maintenance personnel needing proficiency in maintaining and validating safety systems, EHS managers seeking an understanding of general requirements, plant engineering teams in need of a stepping-stone towards TUV Functional Safety Engineering, and HR departments interested in furthering employee development and retention are among those who are encouraged to participate in this opportunity.
About Omron Automation
Omron Automation is an industrial automation partner that creates, sells and services fully integrated automation solutions that include sensing, control, safety, vision, motion, robotics and more. Established in 1933 and currently headed by President Yoshihito Yamada, Omron's roughly 36,000 employees help businesses solve problems with creativity in more than 110 countries. Learn more at automation.omron.com.
Featured Product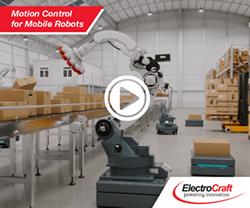 The new MPW86 offers a best in class 500lb per wheel load with speeds of up to 4.3 meters/second. The MPW86 offers powerful starting torque of 35 Nm and 20 Nm continuous. The MPW86 integrated design provides increased performance and reliability at an affordable price compared to traditional motor/gearbox/wheel combinations. The MPW86 is an ideal drivetrain solution for medium to large payload mobile robots and AGVs.