Industry-leading automation solutions provider Omron Automation Americas has upgraded its FH Series vision system with artificial intelligence capabilities that identify subtle defects that previously eluded automated inspection systems.
Omron Automation Americas, a pioneer in complete automation solutions for manufacturing across diverse industrial sectors, recently launched an upgrade to its FH Series vision system that incorporates powerful artificial intelligence (AI) defect detection capabilities. This industry-leading technology builds upon the techniques of skilled inspectors to augment traditional vision-based inspection methods and reliably detect scratches and blemishes that were previously difficult to capture.

Due to a rising demand for product quality, variety and reliability, manufacturers are under intense pressure to use automation to ensure fast and accurate inspections. When it comes to visual inspection, it's particularly important to reliably identify subtle defects, including on flexible production lines that pose challenges due to variation in color, size and other product characteristics. Since these tasks have been particularly troublesome to automate, they've traditionally relied on the sensitivity and knowledge of technicians with long-term experience.
Another issue facing manufacturers across the globe is the need to protect workers from contracting COVID-19, an effort that primarily involves social distancing on the manufacturing floor. This in turn has increased the demand for automated visual inspection that can take on more complex applications. Fortunately, Omron's AI inspection tools are capable of automatically recognizing object features and learning inspection criteria, making the FH Series feasible for widespread deployment.
By including AI as part of the FH Series, Omron helps manufacturers automate vision inspection with a self-contained, easy-to-integrate solution, unlike traditional AI solutions requiring special programming tools and execution environments. This vision system also requires no AI expertise for setup or adjustment at manufacturing sites. Furthermore, the FH Series incorporates more than three decades of Omron's image processing experience to maximize inspection capabilities without needing to learn from enormous amounts of data.
Key features and benefits of the FH Series include the following:
AI algorithms that capture defects with human-like sensitivity. The new AI-based image filter reproduces the technique that skilled inspectors use to identify a defect on any product background. Scratches and blemishes that were once difficult to capture can now be identified even without the use of samples or adjustment. The AI Scratch Detection Filter is able to highlight scratches on different surface types without the need to learn from images or adjust any parameters, making it easy to deploy.
Algorithms that learn to identify good products and avoid unnecessary scrap. The FH Series can determine acceptable variation tolerances using the AI Fine Matching tool that learns from the image data of non-defective products to quickly acquire the "expertise" that inspectors develop through experience. This reduces costs and boosts productivity and consistency without adding complex programming requirements. The effectiveness of the FH Series' AI also reduces over-detection and the false rejection of good parts.
The ability to incorporate high-end vision inspection into any environment. AI has traditionally required a high-end programming and processing environment, but Omron's lightweight solution features user-friendly and efficient processing tools that have been integrated into its popular FH Series hardware. No special hardware for AI or advanced engineering expertise is required.
Industry professionals seeking to learn more about the FH Series vision system with AI defect detection are encouraged to visit the dedicated product page on the Omron website by clicking here.
About Omron Automation
Omron Automation is an industrial automation partner that creates, sells and services fully integrated automation solutions that include sensing, control, safety, vision, motion, robotics and more. Established in 1933 and currently headed by President Yoshihito Yamada, Omron's roughly 30,000 employees help businesses solve problems with creativity in more than 110 countries. Learn more at automation.omron.com.
Featured Product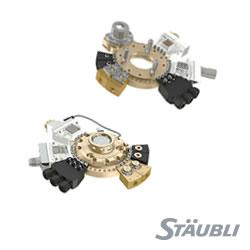 Stäubli is a pioneer in the construction and development of robotic tool changing systems. Our customers benefit from our many years of expertise in all industry sectors, as well as our modular product concept, which offers three efficient solution paths: MPS COMPLETE offers preconfigured robotic tool changers for immediate use. MPS MODULAR allows the user to determine the configuration, while MPS CUSTOMIZED allows the construction of special, application-specific systems.