Extend Robotics arm uses cloud-based teleoperation software, featuring human-like dexterity and intelligence, with multiple applications in healthcare, utilities and energy
Reading, UK, November 25th 2020 - Extend Robotics Ltd., a UK-based innovator in teleoperated robotics, announces the launch of its low-cost, human-like, virtual-reality (VR)-controlled robotics arm. The company produces affordable, dexterous robotic hardware for use in multiple industries, including healthcare, services, utilities and energy.

The Extend Robotics' Robot Toolkit features genuine real-time, immersive and intuitive control using the latest VR technologies, highly realistic human-like dexterity and reachability to six degrees of freedom (DoF). The affordable VR teleoperated robot has been developed in-house at the company's Reading-based headquarters. As the latest video demonstration of the VR remote-controlled service robot trial shows, the teleoperated robotic arm is easily be operated remotely by a human operator.
"At Extend Robotics, our vision is to extend human capability beyond physical presence," explains Dr. Chang Liu, founder and CEO of Extend Robotics and former Research Associate at Imperial College, London. "Our mission is to democratise dexterous teleoperation at scale over the next three years, designing cost-effective robotic arms capable of remote operation from anywhere in the world, using cloud-based teleoperation software.
"Our latest cybernetic bartender robot demo is a great example of an 'out of the box' teleoperated robot solution for the service and catering industry. We also plan to develop VR-controlled teleoperated robots featuring highly accurate, smooth and consistent, human-like movements to improve safety conditions and boost efficiencies across a number of other sectors: from agriculture and healthcare through to the utilities and energy industry."
To date, teleoperation robotics solutions capable of human-level dexterity have been frustratingly expensive, costing anything from £500,000 upwards. Similarly, current industrial developments in gesture-based VR control systems for collaborative robots have also been hampered by limited dexterity and high costs of £100,000 and above.
Worldwide sales of service robotics exceeded $17 billion in 2019, and this rapid and exponentially growing market is forecast to top $55 billion by 2023, according to the International Federation of Robotics (IFR.org). Extend Robotics' is currently developing its Robot Toolkit for widespread commercial use, offering the hospitality and service industries a simple, easy-to-use, plug-and-play solution that is both low-cost and highly dexterous.
"Right now, as we approach the end of the COVID-19 crisis, we expect to see remote working as 'the new norm' across many industries, for numerous health, safety and environmental reasons," adds Dr. Liu. "2020 has been an incredibly challenging year for humanity, yet our hope at Extend Robotics is that the recent acceleration in R&D of remote teleoperated working robots will soon result in a wide range of safe, secure and affordable dexterity robot solutions across a number of industries worldwide."
For more information on Extend Robotics visit www.extendrobotics.com
Featured Product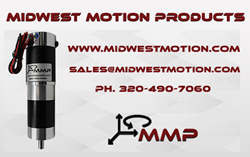 MMP specializes in supplying high-quality Brushed & Brushless DC Motors & Gearmotors for Robotics and Automation Equipment with a wide range of motor windings and gear ratios. With an impressive track record of more than 8,000 released DC Gearmotors designs and over 2,000,000 individual part numbers, we are renowned for our ability to handle large-scale orders. Due to our huge on-hand inventory, we are also well known for lightning-fast delivery of our standard products. We take pride in our dedicated customer service and our team of knowledgeable sales and engineering experts who are ready to assist you with custom design solutions tailored to your specific application. Additionally, we also offer a wide range of complimentary products, such as DC Motor Controls, DC Linear Actuators, AC-DC power Supplies, and DC Servo Amplifiers and others.