An industrial robot is a robot device that is employed in manufacturing. Industrial robots are designed, programmed such as it is free to function on three axes or more.
An industrial robot is a robot device that is employed in manufacturing. Industrial robots are designed, programmed such as it is free to function on three axes or more. Standard robotic applications involve welding, painting, assembly, disassembly, pick-and-place for integrated circuits, labeling and packaging, stacking pallets, material inspection, and testing. All performed with strong endurance, speed, and precision. They can aid in handling materials. Typically industrial robots come in the form of a manipulator's arm fitted with an end-effector and different sensors. Most commercial industrial robots have very minimal sensory abilities, and activity sequences are set but reprogrammable. For such robots, several specific programming languages are adapted or even created. The focus of current research and development is on activities such as automatic assembly, automatic scheduling, visual guidance, and recovery of errors.

The covid-19 effect on the size of the
Industrial Robotics Market
is projected to rise from USD 45 billion in 2020 to USD 119 billion by 2030. It is anticipated to expand at a CAGR of 15% over the forecast period of 2020-2030. The 2025 forecast is expected to be down by about 3 percent relative to the pre-COVID-19 prediction. The dearth of qualified labor and government and public-private partnerships offering proposals to reduce the adverse effects of COVID-19 are the main driving forces for the industry. While the COVID-19 pandemic hurts market growth until Quarter 2 and Quarter 3 of 2020, the market is anticipated to rise from 2021 onwards as players in the industrial robotics sector is expected to be able to clear their backlogs until then and begin with new orders. For example, KUKA's business division Robotics (Germany) had order backlogs totaled US $ 309 million (EUR 276 million) for the year 2019.
Rising demand for collaborative robots
Collaborative robots allow human beings and robots to work efficiently together in open or uncaged conditions. By utilizing collaborative robots, it is possible to involve a human operator and robot in the same system together. Technical specifications ISO 10218 and ISO / TS 15066 describe the requirements for the design of collaborative robots. Collaborative robots are built to ensure protection so that there is no chance of injury and disruption. The absence of cages decreases the space necessary to deploy the robots. Collaborative robots have become more accessible to inexperienced users and are easily manageable.
High deployment costs particularly for small and medium-sized companies
A robot automation program can be daunting, especially for businesses with no previous experience. High capital costs are needed not only for robot purchasing but also for installation, programming, and upkeep. A custom implementation may be required in some cases which further pushes up the total cost. Companies cannot always have the capacity and infrastructure required to deploy the robots. As small and medium-sized enterprises typically engage in low volume production, return on investment (ROI) may pose a problem. The presence of companies engaged in seasonal or inconsistent production schedules further raises the problem. Rapidly evolving customer tastes would require regular reprogramming of robots, as goods need to be revised on an average annually. It results in cost overruns, as product lines and market demand alter dramatically over time and many machines became redundant or obsolete. Over-automation can be troublesome, too.
Rising automation within the electronics sector
The automotive industry has been the largest buyer of robots for producing activities for several years. The influence is rapidly shifting. As per the estimates, the development of the electronics industrial robotics sector is now higher than that of the automotive industry. Despite the rising of narrow profit margins, for now, robot automation is anticipated to become a profitable idea for the electronics industry in the coming years. Within this sector, customization is becoming a standard.
Request Free Sample Copy Research Report @
HERE
Featured Product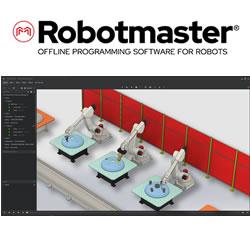 Program multi-robot cells and automatically solve robotic errors with ease. Hypertherm Associates announces a new version to its robotic programming software. Robotmaster 2024 addresses key market trends including the support for programming multiple robots in a single work cell and the demand for automatic trajectory optimization and robotic error correction.