NEW DIAMETER SIZES OF 385 AND 485MM ADDED TO THE QTL-A SERIES
The Netherlands, November 2020 - In 2019 a new design of torque motors was released at the SPS Smart Production Solutions fair. Called the QTL-A series, it is a motor that accommodates applications where high continuous torque in combination with a compact design is paramount. Now Tecnotion expanded upon the same design with two new series with even higher torque generation. The QTL-A 385 and QTL-A 485.

These torque motors come in two heights, 85 and 105 mm. When using the integrated cooling ring suitable for water cooling a continuous torque range of 407 up to 907 Nm can be achieved. In combination with a very high motor constant, it means that the motor produces a lot of torque without generating a lot of heat. This means that the peak performance is especially impressive, with a range of 1026 up to 2202 Nm it stands high above comparable torque motors in the market. At 480 Vac the maximum speed of the smallest torque motor, QTL-A-385-85, is 231 RPM. Features such as large inner diameter, strain-relieved cable exit, integrated temperature sensors, high motor constant, low thermal resistance, and low stator and rotor mass differentiate the QTL motors from other torque motors currently available. The very large inner diameter it allows for easy routing of cables or fitting other parts through the rotor. It, therefore, suits a wide variety of markets including rotary indexing tables, printing, material handling, packaging, and laser cutting.
The direct-drive technology of brushless torque motors is an ideal way to enhance productivity, accuracy, and dynamic performance of applications. This technology lowers costs, shrinks space requirements, and reduces wear and tear. Torque motors eliminate the need for mechanical transmission components such as gearboxes, belts, and speed reducers. This reduces transmission losses and eliminates the cost and maintenance required for additional components. And because there is no contact between rotor and stator, there is no mechanical wear, meaning less maintenance and longer life.
The QTL-A series was developed using lessons learned from the recently released QTR-A series and smaller QTL-A series motors and applied to the requirements of higher torque generation. With 25 years of experience in direct drive technology and manufacturing at our high-technology plant in Suzhou (China), Tecnotion is able to offer a high-quality torque motor at a competitive price.
Featured Product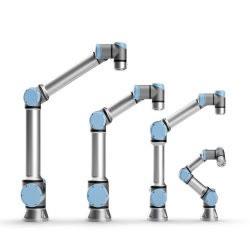 Collaborative robots from Universal Robots are bringing flexible, quick-to-deploy automation to manufacturers of all sizes. With payloads ranging from 3kg to 16kg, UR's cobots can handle nearly any dull, dirty dangerous task, from assembly to painting; palletizing to screw-driving; injection molding to welding. This family of four robot arms can help you improve productivity to compete in a global market. Learn more at www.universal-robots.com.