ABB expands easy programming tool to its industrial robot range, making it easier to install, program and operate robots without specialized training
ABB has launched its Wizard Easy Programming software for its IRB 1100 industrial robot, allowing first time users to introduce robotic automation into their production lines without the need for specialist programming skills or any knowledge of RAPID code.

Based on simple graphical blocks, Wizard Easy Programming makes it easy for non-specialists to automate their applications. The blocks represent actions such as 'move to location', 'pick up an object', and 'repeat movements', making it easy and intuitive to build a series of simple processes for the robot to perform. There are also functions for error handling, allowing novice programmers to resolve errors such as collisions.
With Wizard Easy programming, a robot can be up and running in minutes. The programming process is reduced to simply dragging and dropping the required block on the ABB FlexPendant, with the user able to see the results immediately and adjust the robot's actions if required. By linking these blocks together, complete programs can be built for applications such as machine tending or assembly, with no need for any knowledge of robot programming languages.
ABB's Wizard Easy Programming software, which is already available for Single Arm YuMi®, is available for free and can be installed as an add-on, and it will be preloaded on the FlexPendant of every new IRB 1100. Wizard will become available on other selected ABB industrial robots in the future.
"There is a growing demand from industry for robots that can be programmed easily for a wide range of tasks, which is why ABB is expanding the capability of Wizard Easy Programming to support small industrial robots starting with the IRB 1100," said Antti Matinlauri, Head of Product Management for ABB Robotics. "People have become accustomed to the easy user interfaces in smartphones and other consumer technology. Our Wizard Easy Programming tool uses this concept to take the effort out of programming industrial robots and brings us a step closer to enabling anyone and everyone to use robotics."
For companies with more specialized programming needs, new blocks can also be created to perform specific tasks. This is achieved through ABB's Skill Creator software which ABB or its partners can use to turn standard RAPID programming routines into Wizard blocks, ready for use by non-programmers. The custom blocks, known as skills, can be produced to control specialized grippers or vision applications.
Skill Creator is a separate piece of software that can be downloaded from developercenter.robotstudio.com.
For more information about Wizard Easy Programming, visit https://new.abb.com/products/robotics/application-software/wizard
ABB (ABB: NYSE) is a leading global technology company that energizes the transformation of society and industry to achieve a more productive, sustainable future. By connecting software to its electrification, robotics, automation and motion portfolio, ABB pushes the boundaries of technology to drive performance to new levels. With a history of excellence stretching back more than 130 years, ABB's success is driven by about 110,000 talented employees in over 100 countries. www.abb.com
ABB Robotics & Discrete Automation is a pioneer in robotics, machine automation and digital services, providing innovative solutions for a diverse range of industries, from automotive to electronics to logistics. As one of the world's leading robotics and machine automation suppliers, we have shipped over 400,000 robot solutions. We help our customers of all sizes to increase productivity, flexibility and simplicity and to improve output quality. We support their transition towards the connected and collaborative factory of the future. ABB Robotics & Discrete Automation employs more than 10,000 people at over 100 locations in more than 53 countries. www.abb.com/robotics
Featured Product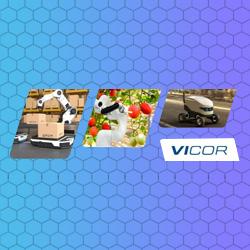 Analog Devices Inc. ADAQ4003 18-Bit 2MSPS µModule® Data Acquisition System is a signal chain solution that reduces the development cycle of a precision measurement system by transferring the signal chain design challenge of component selection, optimization, and layout from the designer to the device. The ADAQ4003 implements SIP technology that reduces end system component count by combining multiple common signal processing and conditioning blocks into a single device..