Please consider the attached press release for your publication's news section. LASERVISION Automotive is a vision system offering automatic inspection capabilities that are new to automotive manufacturers.
FOR IMMEDIATE RELEASE
Media Contact:
Kas Tatarunas
kt@aligned-vision.com
978.244.1166
Artificial Intelligence Streamlines Large-FOV Automatic Inspection for Automotive Industry
Aligned Vision launches LASERVISION Automotive to provide real-time automatic inspection without any disruption to automotive manufacturing operations.
CHELMSFORD, MA - February 18, 2021 - Aligned Vision announces the introduction of LASERVISION Automotive, a program that leverages AI-based automatic inspection technology to fill a strategic gap between the automotive industry's currently available inspection technologies and its quality objectives.
LASERVISION is Aligned Vision's open-platform in-process automatic inspection system. It is the only such system to offer detailed inspection throughout a large (9m2) field of vision (FOV). LASERVISION performs automatic, CAD-directed calibrated image capture. Image analysis is performed using algorithms created through machine learning, and inspection results are available in real time to enable immediate corrective actions of any nonconformances.
"Key to LASERVISION's suitability for automotive applications is its versatile image analysis capabilities," explains Kas Tatarunas, business development manager in Aligned Vision's Detroit office. The in-process data and images generated by LASERVISION may be analyzed using Aligned Vision's own AI-based algorithm development software or any third-party image processing. Integrators may package LASERVISION with their own image processing capabilities to create an exclusive inspection application for their customers. LASERVISION also generates a wealth of smart data for manufacturing intelligence systems to employ deep learning in closed-loop continuous improvement efforts.
"The system is able to inspect virtually any visible product attribute, from the absence of surface scratches and foreign objects and debris (FOD), to orientation of stitching, to locations of holes and clips," Tatarunas reports. He joined the Aligned Vision team specifically to head up LASERVISION Automotive after many years working with machine vision systems in automotive manufacturing operations.
Key features of LASERVISION that will help fill the needs of automotive quality efforts include the following:
• LASERVISION operates several meters away from production equipment, which means it performs inspections without disrupting or interfering with manufacturing operations.
• Unlike fixed smart cameras, LASERVISION's high-magnification, high-resolution camera possesses instantaneous pan-tilt aiming capabilities to capture high-resolution inspection images throughout large work envelopes.
• The system's laser projector provides immediate, precise guidance by highlighting the correct position of holes, clips, and other component features and attributes. It also guides floor personnel to the specific location of nonconformances to help quickly initiate corrective actions.
• LASERVISION operates as a standalone system that imports design and engineering data and exports inspection data; or as an integrated system (via Aligned Vision's software development kit) within a manufacturer's quality management solution (QMS).
• Standalone LASERVISION features electronic work instructions displayed on smart remote controls (tablets and phone-sized touchscreen devices), eliminating paper travelers and work instructions as well as the step-away time required to consult documents on the control computer.
• As-built data and images captured by LASERVISION feed manufacturing intelligence systems, enabling deep learning and continuous process improvement.
"To stay competitive, automotive tier suppliers must continually implement new strategies to lower costs and increase throughput - without sacrificing quality," Tatarunas notes. "LASERVISION represents an opportunity to meet these objectives in ways not possible with other inspection technologies."
Through our LASERVISION Automotive program, Aligned Vision is actively seeking automotive manufacturing partners interested in gaining the competitive advantage that LASERVISION offers. Conditions permitting, Aligned Vision will bring LASERVISION to your facility and demonstrate its capabilities with your data and equipment; or work in our lab with samples of your work-in-progress, with and without flaws. To follow up on LASERVISON Automotive, please contact Tatarunas at kt@aligned-vision.com.
About Aligned Vision
Aligned Vision (Chelmsford, Mass.) pioneered 3D laser guidance for industrial applications and continues to advance its technologies and expand applications to numerous complex manufacturing operations. Beginning with our breakthrough LASERGUIDE laser projection system, Aligned Vision has engineered technologies that extend automation throughout the production cycle, from kitting to inspection and documentation. Our portfolio features the only large-field automatic inspection system currently available to makers of large structural components. Aligned Vision solutions are benefiting aerospace, automotive, marine, wind energy and sporting goods customers.
Featured Product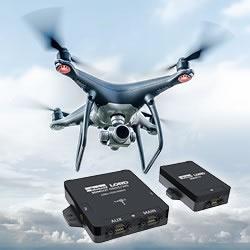 The new complete inertial navigation solution comes with GNSS/INS 3DMGQ7 sensor, 3DMRTK correction modem and real time SensorCloud RTK correction network. The sensor comes with Dual antenna GNSS, tactical grade IMU with centimeter-level accuracy with RTK. Low profile and light weight at 78 grams, this sensor is The sensor is optimized for size and weight in Unmanned Ground Vehicles, mobile robots and autonomous vehicles. The network interface 3DMRTK modem is seamlessly integrated into the 3DMGQ7 sensor supports industry-standard NMEA and RTCM 3.1 protocols. The network RTK support comes with cellular data plan. The SensorCloud RTK is a cloud-based RTK correction system with private encrypted data stream. Check out our G Series and C Series OEM products.