More flexibility and higher utilization: An automatic tool changing system can significantly increase the productivity of a robot. For many manufacturing processes, an automatic tool changer is the only way to achieve the high level of individualization that is required across all industries today.
Stäubli Connectors presents a newly designed range of compact robotic tool changing systems. The five new MPS sizes cover the payload range up to 80 kg. Particularly striking is the variety of transfer technologies that can be used and the very precise repeat accuracy of +/-1.5 µm. With the introduction of this new series, which can be very easily adapted to any application, Stäubli now offers robotic tool changing systems for all payloads and all robots.

More flexibility and higher utilization: An automatic tool changing system can significantly increase the productivity of a robot. For many manufacturing processes, an automatic tool changer is the only way to achieve the high level of individualization that is required across all industries today.
As a globally present robot and connectors manufacturer, Stäubli has decades of experience with the industrial requirements of robot production lines. The company is considered one of the pioneers in the development of robotic tool changing systems, and already offers a comprehensive product range, with up to 1530 kg robot payload.
Efficient solutions through a modular product concept
Stäubli now presents the five newly developed tool changing systems: MPS015, MPS025,
MPS035, MPS055, and MPS080, which cover the entire payload range up to 80 kg. With this new series, Stäubli also consistently applies its expertise in the very simple configuration of customized solutions.
All Stäubli robotic tool-changing systems are based on a modular product concept. This results in three efficient solutions to the ideal tool changing system: The designation MPS COMPLETE stands for the pre-configured complete systems ready for immediate use with the shortest delivery time. With MPS MODULAR, Stäubli offers individually assembled customer solutions that are also ready for immediate use and can be delivered at a short notice. MPS CUSTOMIZED systems are specifically adapted to the customer's application requirements.
Integrated functions and a wide range of modules
"Our new MPS systems for payloads up to 80 kg offer a comprehensive solution concept," says Norbert Ermer, Stäubli's Business Head for Robotic Tool Changers in Bayreuth, Germany. "From material processing and parts handling, to quality inspection via video, we can transfer just about any technology."
Feed-throughs for pneumatics or vacuums have already been integrated into the locking units of these new systems. For flexible functional expansion, numerous additional modules are available for the transmission of pneumatics and vacuum, for signal and data transmission, or for shielding, grounding, tool coding, and data storage. The variety of possible technology combinations is thus almost infinite.
High cost efficiency through placement flexibility
Stäubli customers can position the transmission modules very flexibly and thus adapt them to the robot's cable package. Solutions for every application and requirement can be efficiently configured using a simple order code.
The robot side of the MPS tool changer is equipped with all the necessary modules to be able to use the tools relevant for the robot. On the tool side, only the transmission modules that are required for the operation of the respective tool are needed. This makes it possible to operate up to six differently equipped tool sides with one robot side in order to achieve an optimal ROI.
"Thanks to the extensive and flexible tooling options, we are able to configure optimal solutions for our customers," emphasises Norbert Ermer. "Our diversity of technologies can be easily integrated to completely open up new productivity opportunities for many industries - from electronics and mechanical engineering to metalworking and the plastics industry."
Ideal utilization of robot performance with maximum precision
For the connection between the robot side and the tool side of the MPS system, Stäubli combines cross-shaped guiding surfaces with a spring-loaded ball locking system. This enables the systems to achieve maximum precision throughout the entire product life. The tools are always brought back to their 100 percent exact insertion position. The repeat accuracy is +/-1.5 µm.
The optionally available status monitoring is integrated directly into the locking unit of the changer system in a space-saving manner, so that the overall height of the coupled changer does not increase. This keeps the mass moment of inertia of the tools to the minimum possible and the robot payload can be used optimally.
Easy integration and immediate use
As with the established Stäubli tool changing systems in the robot payload range up to 1530 kg, the new systems for payloads up to 80 kg are also attached directly to the ISO standard flange of every robot produced worldwide without the need for an adapter. This drilling pattern is also passed on the tool side for assembly.
The individually configured changers are delivered fully assembled and ready for use. Thanks to the modular design of the systems, the MPS robotic tool changers from Stäubli can be adapted or expanded at any time for new applications.
Stäubli also offers a tool stand for all sizes: either independent tool stands or only the tool stand upper part, which can be mounted in standard profile solutions (used for storage). The matching tool hanger modules are mounted on the MPS locking units.
About Stäubli: Connectors, industrial robots, and textile machines
Stäubli offers innovative mechatronic solutions in three core areas: coupling systems, robotic tool changers, robotics systems, and textiles. With over 5,500 employees, the company has an annual revenue of 1.4 billion USD. Originally founded in 1892 as a small company in Zurich/Horgen, Stäubli is now an international group based in Pfäffikon, Switzerland.
www.staubli.com
Featured Product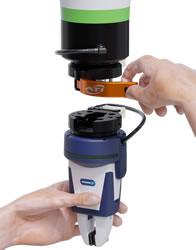 Simpler, stronger, and more precise. ATI Industrial Automation has developed a series of Manual Tool Changers that provides a cost-effective solution for quickly changing tools by hand. They feature a unique design that combines high strength, excellent repeatability, and a patent-pending screw-cam locking mechanism with multiple fail-safe features, which resists vibration and prevents loosening. These robust and compact Manual Tool Changers can handle payloads up to 80 pounds (36 kg) and pass pneumatics and electrical signals.