Unit's servomotor-based design makes it ideal for use on high-speed, multi-stop indexing applications that can tax the capabilities of pneumatic positioners
Auburn Hills, Michigan (March 29, 2021) - DESTACO is pleased to announce the addition of the PGM40 Series Servo Positioner to its portfolio of high-performance rotary servo-positioning solutions. The PGM40 servo positioner has been designed for use in small, medium and relatively high-speed positioning applications in transportation, consumer, packaging, industrial, molding, clean room, fixture/testing and assembly processes, and has the capability to provide sub-positioning on larger servo-positioning setups.

The leading feature of the PGM40 servo positioner is its precision-engineered parallel-cam design, which enables it to combine high indexing accuracy with rigid performance. Additionally, the PGM40 has low input inertia, allowing it to operate more precisely while reducing the starting torque required and demanding less overall torque from the servomotor.
"The PGM40 Servo Positioner is the perfect solution for those manufacturers who may be looking to transition from a traditional two-point-stop pneumatic indexer to one powered by a servomotor that has the capability to stop at multiple indexing points," said Matt Girand, DESTACO's Vice President & General Manager, Americas and Global Automation. "The features of the PGM40 make it a cost-effective solution that is ideal for use on portable OEM machines that need to be flexible, lightweight, highly compact and as precise as possible."
The construction of the PGM40 servo positioner allows it to handle high payloads despite its compact housing, thanks to its high power-to-weight ratio and its integrated motor-clamp system makes it compatible with all standard third-party gear-head motor couplings. The PGM40 also features a large central opening that enables it to easily accommodate a variety of wiring and piping. Finally, the PGM40's "lubricated for life" design greatly reduces the need for maintenance, essentially making it a "set it and forget it" product.
To learn more about any of DESTACO's high-performance automation, workholding or remote-handling solutions, please visit destaco.com or call (888) DESTACO (888-337-8226).
About DESTACO
DESTACO, a Dover Corporation company, is a global leader in the design and manufacture of high-performance automation, workholding and remote-handling solutions. The company serves customers in a variety of end-markets, including the automotive, life sciences, consumer packaged goods, aerospace, industrial and nuclear sectors.
Built on a legacy of more than 100 years, DESTACO offers a comprehensive portfolio of products designed to engineer precise movement, placement and control solutions that drive productivity and uptime for manufacturers around the world. The DESTACO family of products consists of industry-leading brands such as DESTACO Manual Clamps, Power Clamps, and End Effectors; Camco™ and Ferguson™ Indexers; Robohand™ Grippers; and CRL™ Manipulators and Transfer Ports.
DESTACO is based in Auburn Hills, Michigan, U.S.A. The company has more than 800 employees with 13 locations, in 9 countries, across the Americas, Europe and Asia.
DESTACO is part of Dover Corporation, a diversified global manufacturer and solutions provider with annual revenue of approximately $7 billion. Dover delivers innovative equipment and components, consumable supplies, aftermarket parts, software and digital solutions, and support services through five operating segments: Engineered Products, Fueling Solutions, Imaging & Identification, Pumps & Process Solutions and Refrigeration & Food Equipment. Dover combines global scale with operational agility to lead the markets we serve. Recognized for its entrepreneurial approach for over 60 years, Dover's team of more than 23,000 employees takes an ownership mindset, collaborating with customers to redefine what's possible. Dover is headquartered in Downers Grove, Illinois.
More information is available at destaco.com and dovercorporation.com
Featured Product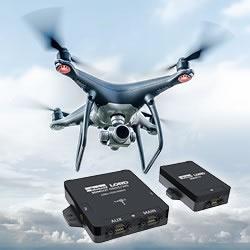 The new complete inertial navigation solution comes with GNSS/INS 3DMGQ7 sensor, 3DMRTK correction modem and real time SensorCloud RTK correction network. The sensor comes with Dual antenna GNSS, tactical grade IMU with centimeter-level accuracy with RTK. Low profile and light weight at 78 grams, this sensor is The sensor is optimized for size and weight in Unmanned Ground Vehicles, mobile robots and autonomous vehicles. The network interface 3DMRTK modem is seamlessly integrated into the 3DMGQ7 sensor supports industry-standard NMEA and RTCM 3.1 protocols. The network RTK support comes with cellular data plan. The SensorCloud RTK is a cloud-based RTK correction system with private encrypted data stream. Check out our G Series and C Series OEM products.