Popular "Once Upon A Robot" writing competition and "Draw A Robot" design challenges return; entries invited from all Key Stage 1 & 2 children, with chance to win unique prizes
London, UK, April 14 2021—The organisers of the popular annual UK Robotics Week celebration - now the UK Festival of Robotics - today announce the return of their robot drawing and story competitions, inviting primary schoolchildren nationwide to share their robot-inspired creativity with a team of top judges. The inaugural competitions in 2020 attracted an impressive number of entries from primary school-age children up and down the country, and this year's competitions promise to be even bigger and better following the re-opening of UK schools last month.
For the "Draw A Robot" competition, children in Key Stage 1 (aged 5 - 7 years old) have the chance to draw a robot that they'd like to see in the future. The robot could be designed to accomplish any task or job - the sky's the limit! The children will be able to submit a robot drawing, up to 200-word description, and five key features (labelled on the drawing). The "Once Upon A Robot" writing competition is open to all Key Stage 2 children (aged 7-11 years old), and challenges competition participants to write an 800-word story featuring any kind of robot their imagination can conjure. The story could take place on Earth, in space or even on another planet!
The two competitions will be judged by robotics experts from the organising ESPRC UK-RAS Network, plus two very special invited judges. The writing competition will be judged this year by writer, comedian, podcaster and history presenter Iszi Lawrence, author of The Unstoppable Letty Pegg. The drawing competition will be judged by Fiona MacDonald, Head of Learning at the Design Museum in London.
There are fabulous prizes on offer, including a MakeBlock Codey Rocky Robot (courtesy of FAIR-SPACE), a Thames Komos Coding & Robotics Kit (provided by RAIN), plus some unique and exclusive prizes courtesy of our guest judges. For more information, details of prizes, judging criteria and to submit an entry, please visit https://www.ukras.org/school-robot-competition/.
Both competitions are open for entry now and will close on 23rd May 2021. The winners will be announced during the online UK Festival of Robotics (19th - 25th June 2021) at a virtual award ceremony.
EPSRC UK-RAS Network Chair Robert Richardson comments: "We are delighted to be able once again to host these two exciting challenges for the nation's schoolchildren. The fantastic creativity and ingenuity demonstrated by our competition entrants has become a real highlight of our annual robotics celebrations. We are looking forward immensely to reviewing this year's entries, and providing a platform to showcase the creative achievements of pupils and their schools."
These two creative competitions for young children were launched in 2020 for UK Robotics Week, now the UK Festival of Robotics - a 7-day celebration of robotics and intelligent systems in June 2021. This exciting programme will run from 19th - 25th June and feature online events, competitions, and activities for robot enthusiasts of all ages. Now in its 6th year, this annual celebration is hosted by the EPSRC UK Robotics and Autonomous Systems (UK-RAS) Network, which provides academic leadership in robotics and coordinates activities at over 30 partner universities across the UK.
The Festival will be the centrepiece of the Network's Robotics Summer Showcase, a 3-month programme of online events in the summer of 2021 showcasing the cutting edge in UK robotics research and industry to a diverse range of audiences. Running from May to July, the Robotics Summer Showcase will include a variety of events from across the Network aimed at engaging the RAS community, helping to create meaningful connections and foster collaboration.
For more information on the competitions and activities for children available during the UK Festival of Robotics and the Robotics Summer Showcase, please visit: https://www.ukras.org/robotics-summer-showcase/
https://www.ukras.org/robotics-week/
----Ends----
Notes to editors
About Iszi Lawrence https://iszi.com/
Iszi Lawrence is a writer, comedian, podcaster and History presenter. Credits include Netflix The Lost Pirate Kingdom, co-host of BBC Radio 4's flagship show, Making History (with Tom Holland), The British Museum Membercast and The Z List Dead List podcasts. Her first novel, The Unstoppable Letty Pegg (historic children's fiction Bloomsbury) was published in 2020 and her next novel, Billie Swift Takes Flight is out September 2021.
About Fiona MacDonald
Fiona is Head of Learning at the Design Museum and Co-Founder of architectural education organisation, MATT+FIONA. She endeavours to bridge design and participation in her practice, particularly from the view of young people.
In her architectural training, she completed her undergraduate studies at Edinburgh University, where her work won The Lighthouse Award, and her postgraduate studies at The Cass in London, where her final year project won RIBA London's Live Community Project Award. She has taught architecture at both Edinburgh University and The Bartlett, and Interior and Spatial Design at Chelsea College of Art, UAL. Prior to her work at the Design Museum, she established the National Schools and Young People's Programme at the Royal Institute of British Architects.
About the Design Museum (https://designmuseum.org/)
The Design Museum is the world's leading museum devoted to contemporary architecture and design. Its work encompasses all elements of design, including fashion, product and graphic design. Since it opened its doors in 1989 the museum has displayed everything from an AK-47 to high heels designed by Christian Louboutin. It has staged over 100 exhibitions, welcomed over seven million visitors and showcased the work of some of the world's most celebrated designers and architects including Paul Smith, Zaha Hadid, Jonathan Ive, Frank Gehry, Eileen Gray and Dieter Rams. On 14 November 2016, The Design Museum relocated to Kensington, west London. Leading architect John Pawson has converted the interior of a 1960s modernist building to create a new home for the Design Museum giving it three times more space in which to show a wider range of exhibitions and significantly extend its learning programme.
In October 2020, the Design Museum was awarded £2,968,634 by Arts Council England from the Culture Recovery Fund announced by the Department for Digital, Culture, Media and Sport. In July 2020, the Design Museum was awarded nearly £1 million National Lottery funding through the Arts Council's Emergency Response Fund.
About the EPSRC UK-RAS Network (https://www.ukras.org/)
The EPSRC UK Robotics and Autonomous Systems Network (UK-RAS Network) is dedicated to robotics innovation across the UK, with a mission to provide academic leadership in Robotics and Autonomous Systems (RAS), expand collaboration with industry, and integrate and coordinate activities at eight Engineering and Physical Sciences Research Council (EPSRC)-funded RAS capital facilities and Centres for Doctoral Training (CDTs) across the country.
About FAIR-SPACE (https://www.fairspacehub.org/)
The Future AI and Robotics for Space (FAIR-SPACE) Hub, led by the University of Surrey, brings together over 30 international partners to address key challenges in space robotics and autonomous systems, as well as to influence and engage with the wider community of academia, industry, government and the public.
About RAIN (https://rainhub.org.uk/)
The Robotics and AI in Nuclear (RAIN) Hub uses robotic and AI technologies to solve challenges faced by the nuclear industry. Led by The University of Manchester, it brings together robotic and nuclear engineering experts from Lancaster University, The University of Oxford, The University of Liverpool, The University of Sheffield, The University of Bristol, The University of Nottingham and RACE.
For further information please contact:
PRESS CONTACT: Nicky Denovan EvokedSet Email: nicky[@]evokedset[dot]com Phone: +44 (0) 118 328 2782
Distributed on behalf of EvokedSet Ltd by NeonDrum news distribution service (https://www.neondrum.com)
Featured Product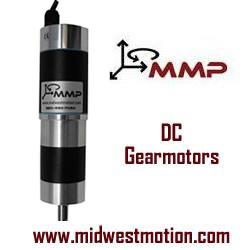 MMP now offers Right Angled Gearmotor designs which allow for significantly increased versatility, with the ability to be installed in tight spaces. We can employ any of our standard Brushed or Brushless Motors with our standard Planetary Gearheads to complete the new R/A Design. The photo is of one of our standard Brushed Motors attached to one of our Standard Planetary Gearheads via our R/A Gearbox design.