Superior Sensor Technology, a manufacturer of advanced differential pressure sensors, has partnered with TraceParts to publish its 3D product catalog.
CINCINNATI, OHIO and SANTA CLARA, CALIFORNIA USA (April 22, 2021) - Superior Sensor Technology, a manufacturer of advanced differential pressure sensors, has partnered with TraceParts to publish its 3D product catalog.

Superior Sensor Technology is an innovative, high technology company founded in 2016 and based in Santa Clara, CA. Their mission is to provide easy to configure and highly accurate pressure sensors for industrial, HVAC and medical applications.
"We are excited about the opportunity to work with TraceParts and pleased to make information and CAD-content available on our high-quality products to the millions of designers and engineers that utilize TraceParts.com and the TraceParts Publishing Network." said Anthony Gioeli, Vice President, Marketing at Superior Sensor Technology.
The complete range of Superior Sensor Technology products are now available on the TraceParts CAD-content platform. Once configured, designers and engineers all over the world can immediately preview and download Superior Sensor Technology product data in more than sixty (60) different CAD and graphic formats and validate their designs in their engineering design systems.
"TraceParts is thrilled to be working with Superior Sensor Technology to digitize and deliver their products as 3D product data, including the supplier and part number information required to complete the digital thread. TraceParts helps Superior Sensor Technology to be reliably spec'd in and purchased through a seamless digital customer experience," said Rob Zesch, President of TraceParts America.
About Superior Sensor Technology
Superior Sensor Technology is revolutionizing the high performance, cost driven pressure sensor market by developing integrative, highly intelligent solutions for industrial, HVAC and medical applications.
The company's technology is based on a breakthrough system-in-a-sensor, proprietary architecture, called NimbleSense™, which significantly improves overall sensor performance while adding exclusive application specific system features.
Superior Sensor Technology was founded in 2016 and is based in Santa Clara, CA.
For more info, visit superiorsensors.com.
About TraceParts
TraceParts is one of the world's leading CAD-content platforms for Engineering, Industrial Equipment and Machine Design, totaling 4.2 million registered members from 1.2 million companies actively sourcing product information and technical data from over 195 different countries.
As part of the Trace Group founded in 1990, TraceParts brings highly targeted marketing exposure to more than 800 customers of all sizes and from all industries, via powerful cloud-based API and SaaS applications such as CAD part libraries, product catalogs and configurators.
TraceParts' comprehensive Digital Marketing Services help part manufacturers and distributors, 3D printing & quick prototyping suppliers, CAD/CAM/CAE/ECAD software and computer hardware vendors promote their products and services and generate highly qualified sales leads.
Available free-of-charge to millions of Engineers & Designers worldwide, the TraceParts CAD-content platform provides access to over 1,100 supplier-certified product catalogs and billions of 2D drawings & 3D CAD models and product datasheets that perfectly match the digitalization needs of Design, Purchasing, Manufacturing and Maintenance processes & operations, in virtually any industrial sector.
For more information, visit www.traceparts.com.
Featured Product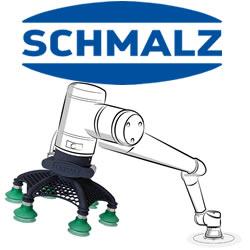 In order to interact with their environment and perform the tasks, lightweight robots, like all industrial robots, depend on tools - and in many cases these are vacuum grippers. These form the interface to the workpiece and are therefore a decisive part of the overall system. With their help, the robots can pick up, move, position, process, sort, stack and deposit a wide variety of goods and components. Vacuum gripping systems allow particularly gentle handling of workpieces, a compact and space-saving system design and gripping from above. Precisely because the object does not have to be gripped, the vacuum suction cupenables gapless positioning next to each other.