Businesses worldwide can now for the first time easily get offers and compare prices on products and services related to industrial robots. The new service from HowToRobot.com will make it easier and cheaper for businesses to have a robot according to CEO, Søren Peters.
Until today, there has been no easy way to compare prices on industrial robots and related services and products.

The global robotics hub HowToRobot.com is now solving this issue. The hub is launching a service for companies with robots to get offers on anything from components to maintenance, robot programming, and training. With several offers to hand, businesses can for the first time compare prices in an easy way.
"We want to make it easier and cheaper for businesses to have a robot," says CEO of HowToRobot.com, Søren Peters.
New service connects the global robot market
The new service allows customers to send out requests to more than 15.000 suppliers of robot-related products and services. As with similar digital platforms known from other industries, HowToRobot.com solves a growing need for connecting buyers and sellers in one place online.
"We're making it easier for customers to find the right suppliers and make sure they are paying a fair price," says Søren Peters.
Many companies, for example, need to renegotiate service agreements on their robots after a certain period. By getting comparable offers from several suppliers, they make sure to get the best deal available on the market.
Most businesses lack market overview
It is the ambition of HowToRobot.com to change an industry lacking transparency. Currently, four out of every five businesses do not get offers from more than one supplier whenever they need something for their robot, research from HowToRobot.com shows.
"Without several comparable offers on the table, customers can't know where to get the most favorable price and terms," Søren Peters says.
On HowToRobot.com, businesses can now send out a request to suppliers for free in just a few minutes. Suppliers then send offers including price quotations to the buyer and the transaction is finalized on the platform.
"We want to make prices on the robot market transparent. This will help businesses save on procurement expenses - and make it less of a hassle to have a robot," Søren Peters concludes.
About HowToRobot.com
The world's largest digital robot hub, connecting buyers and sellers from the industry.
Businesses can get offers with comparable prices from more than 15.000 suppliers of robot and automation-related products and services on the platform.
Making a Request for Quotation on the platform is free and buyers can choose to stay anonymous. They can get offers on for example:
• New robots, components, grippers, vision systems, and spare parts
• Repair and maintenance services
• Services to change, re-program or optimize how current robots operate
• Training and upskilling of employees to handle robots
• Expert help and related consultancy services
Featured Product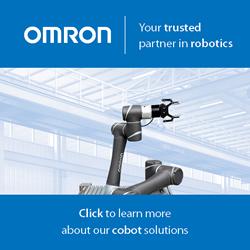 Humans and robots can now share tasks - and this new partnership is on the verge of revolutionizing the production line. Today's drivers like data-driven services, decreasing product lifetimes and the need for product differentiation are putting flexibility paramount, and no technology is better suited to meet these needs than the Omron TM Series Collaborative Robot. With force feedback, collision detection technology and an intuitive, hand-guided teaching mechanism, the TM Series cobot is designed to work in immediate proximity to a human worker and is easier than ever to train on new tasks.