LoadMate Plus aims to increase production in high-mix, low-volume machine shops and free up operators through automation
Mitsubishi Electric Automation, Inc. is announcing the release of its LoadMate Plus engineered solution. LoadMate Plus is a robot cell which can be easily moved for efficient use, and is targeted towards manufacturers in CNC machine tool applications that find themselves facing a labor crunch, while needing to be more efficient and improve their production. The robot cell provides flexible solutions for traditionally high-mix, low-volume facilities to introduce automation, and is designed with mobility and flexibility in mind.

LoadMate Plus automates the task of loading and removing parts from a machine tool through the use of robotics, and can be mounted next to one machine, between two machines, and otherwise moved around a facility as jobs require. When this cell is paired with Mitsubishi Electric M8 Series CNC, operators can use the Direct Robot Control (DRC) feature within the CNC controls to also control and program the robot with menus and G-code from the same screen used for the machine tool. No robot programming experience or teach pendant is required, allowing manufacturers to use existing staff to automate and make adjustments.
"Most automation solutions for machine tending rely on either cobots for flexibility, or industrial robots for performance and larger parts," said Rob Brodecki, services product manager at Mitsubishi Electric Automation. "With LoadMate Plus, users don't have to sacrifice one for the other. The cell is flexible, regardless of the robot, and users can choose from a number of robots to match a shop's specific needs. Plus, with an available 3-year robot warranty, and Mitsubishi Electric technicians who can service LoadMate Plus, users can ensure that their production will continue uninterrupted."
LoadMate Plus can be used with a variety of machine tools, including mill, lathe, and drilling/tapping. To learn more about LoadMate Plus, visit this link.
To learn more about Mitsubishi Electric Automation, visit https://us.mitsubishielectric.com/fa/en.
About Mitsubishi Electric Automation, Inc. Headquartered in Vernon Hills, Ill., Mitsubishi Electric Automation, Inc., offers a wide range of factory automation products, solutions, training and support services for the industrial and commercial sectors. A U.S. affiliate company of Mitsubishi Electric Corporation, Mitsubishi Electric Automation represents more than 75 years' experience in the automation industry. A broad product portfolio includes programmable automation controllers (PAC), programmable logic controllers (PLC), human machine interfaces (HMI), variable frequency drives (VFD), servo amplifiers and motors, control software, computerized numerical controllers (CNC), motion controllers, robots and low-voltage power distribution products. The company takes its solutions on the road with the 53-foot long Solutions in Motion mobile showroom that appears at tradeshows, training seminars and other events across North America. Additional information about Mitsubishi Electric Automation is available at us.MitsubishiElectric.com/fa/en. In addition to factory automation, Mitsubishi Electric US group companies' principal businesses include semiconductor devices, automotive electrical components, elevators and escalators, heating and cooling products, electric utility products, and large-scale video displays for stadiums and arenas. Mitsubishi Electric US group companies have 38 locations throughout North America with approximately 4,000 employees.
Featured Product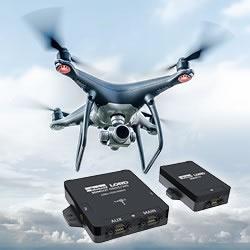 The new complete inertial navigation solution comes with GNSS/INS 3DMGQ7 sensor, 3DMRTK correction modem and real time SensorCloud RTK correction network. The sensor comes with Dual antenna GNSS, tactical grade IMU with centimeter-level accuracy with RTK. Low profile and light weight at 78 grams, this sensor is The sensor is optimized for size and weight in Unmanned Ground Vehicles, mobile robots and autonomous vehicles. The network interface 3DMRTK modem is seamlessly integrated into the 3DMGQ7 sensor supports industry-standard NMEA and RTCM 3.1 protocols. The network RTK support comes with cellular data plan. The SensorCloud RTK is a cloud-based RTK correction system with private encrypted data stream. Check out our G Series and C Series OEM products.