IRB 1300 features IP67, Foundry Plus 2 and cleanroom ISO 4 versions, enabling new applications in harsh and contamination-free production environments
ABB's 6-axis IRB 1300 industrial robot includes new protection elements that enable it to be used in tough industrial applications and contamination-free production processes, opening new opportunities for increased productivity, improved product quality and reduced cycle times in a variety of industries including electronics assembly, automotive and metals fabrication, amongst others.

Originally launched in 2020, the IRB 1300 is now available in IP67, Foundry Plus 2 and cleanroom ISO 4 versions. This will expand its use in tough environments, with high levels of liquids and dust. This is achieved by preventing intrusion by sealing all electrical components, which enables in a variety of processes in industries including electronics manufacture, Automotive, and metals fabrication.
For added protection in metals applications including metal die casting, sand casting, forging and machining, the Foundry Plus 2 version includes the use of stainless steel on the end effector. This will prevent rusting that can occur when liquids are applied to wash away dust particles and metallic debris. By helping to protect against premature wear, this feature can help to prolong the robot's service life, minimizing disruption caused by downtime and unscheduled repairs.
For applications requiring a clean production environment, in industries such as pharmaceuticals and semiconductor manufacturing, the IRB 1300 ISO 4 cleanroom version features a number of measures to help eliminate the risk of contamination. Key features include the use of chemical resistant exterior paint which helps avoid paint degradation when using cleaning agents that protect against bacteria. The robot's design also minimizes the number of gaps where bacteria could form, providing an added level of protection, while a particle filter and a fully sealed design prevent grease, oil and particles from coming into contact with the products being handled.
"The addition of cleanroom and harsh environment capability enables us to offer the benefits of the IRB 1300 to a whole new set of manufacturing applications in industries renowned for their tough nature or their need to be contamination-free," said Darren Hung, Global Product Manager - Small Robots for ABB. "The IRB 1300 is the perfect partner for a wide variety of tasks including materials handling, machine tending, polishing, and assembly and testing, and can now help more businesses achieve new standards of speed and accuracy as they develop solutions to lift and handle heavy, complex or irregular shapes, even in small workspaces."
Featuring a footprint of just 220 mm by 220 mm, the IRB 1300 is ideal for use in confined spaces, enabling more robots to be deployed in a specific area if required. It is available in three main versions - 11 kg/900 mm, 10 kg/1150 mm and 7 kg/1400 mm. The 11kg payload for the 900 mm reach variant is higher than any other competing robot in its class.
Powered by ABB's OmniCore™ controller, the IRB 1300 offers advanced motion control and best-in-class path accuracy, allowing it to handle an expanded range of applications such as polishing and machine tending.
To maximize the versatility of the IRB 1300, the OmniCore controller can be equipped with a range of additional equipment, including fieldbus protocols, vision solutions, and force control. OmniCore also offers a simple user interface on the intuitive FlexPendant, which features a large multi-touch display with standard gestures such as pinch, swipe and tap, allowing users to easily program and operate their robot.
ABB (ABB: NYSE) is a leading global technology company that energizes the transformation of society and industry to achieve a more productive, sustainable future. By connecting software to its electrification, robotics, automation and motion portfolio, ABB pushes the boundaries of technology to drive performance to new levels. With a history of excellence stretching back more than 130 years, ABB's success is driven by about 105,000 talented employees in over 100 countries. www.abb.com
ABB Robotics & Discrete Automation is a pioneer in robotics, machine automation and digital services, providing innovative solutions for a diverse range of industries, from automotive to electronics to logistics. As one of the world's leading robotics and machine automation suppliers, we have shipped more than 500,000 robot solutions. We help our customers of all sizes to increase productivity, flexibility and simplicity and to improve output quality. We support their transition towards the connected and collaborative factory of the future. ABB Robotics & Discrete Automation employs more than 11,000 people at over 100 locations in more than 53 countries. go.abb/robotics
Featured Product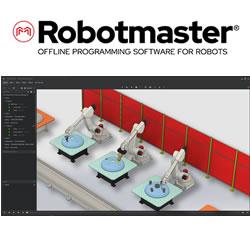 Robotmaster delivers unmatched, full-function off-line programming capability for robots - easy programming of precise robot motion control and quick generation of path trajectories of any size, with minimal programmer intervention. Our strong background in CAD/CAM (Computer Aided Manufacturing) software has enabled us to bring a revolutionary approach to programming industrial robots.