To satisfy the growing need for PI's high precision and high performance motion control solutions in Asia, PI invests in a new R&D and Manufacturing center in Changzhou, to specifically focus on the local demands in the APAC region. The new factory offers solutions for high performance automation applications, ranging from standard single-axis linear modules to scalable multi-axis systems.
Precision motion control and nanopositioning systems leader PI (Physik Instrumente) is proud to announce the expansion of its worldwide offices to Changzhou, China with an R&D and manufacturing center, providing faster delivery and support of high-quality solutions to Asian customers. Similar to PI's continued investment in R&D and production sites in the USA and Europe, Changzhou will better support customers and meet the needs of local markets in the APAC region. PI now operates direct offices or production facilities in 12 countries around the world.

Feasibility, Profitability, and Timeline
PI's engineers are laser-focused on providing competent consulting from the start to design a complete solution that is economical, with delivery in the required timeframe, and fulfills PI's premium reputation for nanopositioning excellence. With PI's ambition to support precision production processes worldwide with fast and reliable availability of new solutions, the Changzhou team will work with customers in the APAC region and respond quickly to market specifications and requirements.
In addition to Shanghai, Beijing, and Shenzhen, China, PI APAC offices are in Singapore, South Korea (Seoul), Japan (Toyko and Osaka), and Taiwan (Taipei City).
Application Fields
High accuracy industrial automation processes in fields such as semiconductor test and metrology, genome sequencing, bio-tech, medical engineering, high resolution microscopy, optics and photonics manufacturing.
Watch the Changzhou video»
Learn more about PI»
Working with You
PI's in-house engineered solutions have enabled customers around the world to increase their productivity and technological advantage for 5 decades. With a large basis of proven motion technologies and methodologies, PI is in the position to quickly modify existing designs or provide a fully customized OEM solution to fit the exact requirements of your application from sensors and piezo transducers to microscope nano-focus units, fast photonics alignment systems to multi-axis automation sub-systems.
USA / Canada
http://www.pi-usa.us | info@pi-usa.us | (508) 832-3456
About PI
PI is a privately held company that designs and manufactures world-class precision motion and automation systems including air bearings, hexapods and piezo drives at locations in North America, Europe, and Asia. The company was founded 5 decades ago and today employs more than 1300 people worldwide. PI's customers are leaders in high-tech industries and research institutes in fields such as photonics, life-sciences, semiconductors, and aerospace.
Featured Product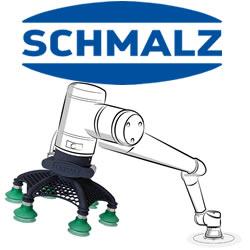 In order to interact with their environment and perform the tasks, lightweight robots, like all industrial robots, depend on tools - and in many cases these are vacuum grippers. These form the interface to the workpiece and are therefore a decisive part of the overall system. With their help, the robots can pick up, move, position, process, sort, stack and deposit a wide variety of goods and components. Vacuum gripping systems allow particularly gentle handling of workpieces, a compact and space-saving system design and gripping from above. Precisely because the object does not have to be gripped, the vacuum suction cupenables gapless positioning next to each other.