Guardian XO Full-Body, Battery-Powered Wearable Robot Selected in Major Categories Solving Health and Climate Crises
SALT LAKE CITY - May 4, 2021 - Sarcos Robotics ("Sarcos"), a leader in the development of robots that augment humans to enhance productivity and safety, today announced that its Guardian® XO® full-body, battery-powered industrial exoskeleton has been selected as a finalist by Fast Company's 2021 World Changing Ideas Awards. The Guardian XO robot was named a Finalist in the Best Changing Idea North America and General Excellence categories with award selection to be named on May 10, 2021. Sarcos Robotics announced that it will become publicly listed through a merger transaction with Rotor Acquisition Corp. (NYSE: ROT.U, ROT, and ROT WS) ("Rotor"), a publicly-traded special purpose acquisition company.

Now in its fifth year, the World Changing Ideas Awards showcases winners across a wide variety of categories, highlighting businesses, policies, projects and concepts that are actively engaged in and deeply committed to pursuing innovation when it comes to solving health and climate crises, social injustice or economic inequality. The award winners will be featured in the Summer 2021 issue of Fast Company, on newsstands May 10, 2021. A panel of eminent Fast Company editors and reporters selected the winners and finalists from a pool of more than 4,000 entries across transportation, education, food, politics, technology and more.
The Guardian XO full-body, battery-powered industrial exoskeleton is designed to allow a worker to safely lift up to 200 pounds and improve productivity by at least three times. Sarcos is targeting a variety of industries such as manufacturing, warehousing and logistics, construction, oil and gas, aviation, defense and others, and expects to commercially release the Guardian XO exoskeleton in mid-2022 with beta units being launched in the second half of 2021.
"We are proud to be recognized yet again by Fast Company, this time for the prestigious World Changing Ideas Awards," said Ben Wolff, chairman and CEO of Sarcos Robotics. "Our Guardian XO industrial exoskeleton was created to address the high economic and social costs of occupational injuries, as well as the significant skilled labor shortages that are being experienced globally. We believe it has significant potential to transform a wide variety of industries by increasing productivity, decreasing work-related injuries and broadening the number of workers able to perform physically demanding labor."
"There is no question our society and planet are facing deeply troubling times," said Stephanie Mehta, editor-in-chief of Fast Company. "So, it's important to recognize organizations that are using their ingenuity, impact, design, scalability and passion to solve these problems. Our journalists, under the leadership of senior editor Morgan Clendaniel, have discovered some of the most groundbreaking projects that have launched since the start of 2020."
For more information on Sarcos and its products, visit https://www.sarcos.com.
About Sarcos Robotics
Sarcos Robotics is a leader in industrial robotic systems that augment human performance by combining human intelligence, instinct, and judgment with the strength, endurance, and precision of machines to enhance employee safety and productivity. Leveraging more than 30 years of research and development, Sarcos' mobile robotic systems, including the Guardian® S, Guardian® GT, Guardian® XO®, and Guardian® XT™, are designed to revolutionize the future of work wherever physically demanding work is done. Sarcos is based in Salt Lake City, Utah, and backed by Caterpillar Venture Capital Inc., Delta Air Lines, GE Ventures, Microsoft, and Schlumberger. For more information, please visit www.sarcos.com.
About Rotor Acquisition Corp.
With approximately 100 years of combined experience in investing and managing capital across markets and industries, structuring transactions, and building businesses and led by Chief Executive Officer Brian Finn, Chairman of the Board Stefan M. Selig, and Director John D. Howard, Rotor Acquisition Corp. is a blank check company formed for the purpose of effecting a merger, capital stock exchange, asset acquisition, stock purchase, reorganization or similar business combination with potential target companies with certain industry and business characteristics within the areas of disruptive consumer and industrial technologies. For more information, please visit www.rotoracquisition.com.
About the World Changing Ideas Awards: World Changing Ideas is one of Fast Company's major annual awards programs and is focused on social good, seeking to elevate finished products and brave concepts that make the world better. A panel of judges from across sectors choose winners, finalists and honorable mentions based on feasibility and the potential for impact. With the goals of awarding ingenuity and fostering innovation, Fast Company draws attention to ideas with great potential and helps them expand their reach to inspire more people to start working on solving the problems that affect us all.
Featured Product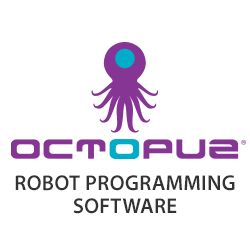 OCTOPUZ makes complex robot programming simple through cutting-edge Offline Robot Programming Software (OLRP) that enables detailed robot operations, complete with machinery and manufacturing components, to be first simulated on a computer, then output for the real world. Within this virtual cell, OCTOPUZ uses built-in machine logic to identify the optimal toolpath trajectory and program the required code for a multitude of industrial tasks. The code is then output for the specific robot brand, for use in the real world.