The SMAC Approach to switch testing and touchscreen testing explained in detail.
If you find yourself embarking on a directive to test some sort of electrical switch; new product release, proof of concept, functional testing during/after assembly, accelerated life cycle, or something much, much worse like failures in the field, sorting, recall, corrective action, FMEA, 8D, or whatever the newest Quality Acronym to hit the streets is? Where might you start? Well it would be good idea to re-reference someone (aka customer/their specifications) as well as some general documentation on "how to test switches" and while ASTM would be as solid a choice as any, but talk about turning the funnel upside down. If you do a search on let's say "membrane switch testing", ASTM has 526 results alone under standards and publications! Here are the main ones with respect to mechanically testing membranes to get you well on your way should you have a need:

F2112 Terminology of a Membrane Switch
F2114 Guide for ASTM Standard Test Methods, Standard Practices, and Typical Values of a Membrane Switch
F1578 Practice for Contact Closure Cycling of a Membrane Switch
F1597 Test Method for Determining the Actuation Force and Contact Force of a Membrane Switch
F1661 Test Method for Determining the Contact Bounce Time of a Membrane Switch
F1682 Test Method for Determining the Travel of a Membrane Switch
F1997 Test Method for Determining the Sensitivity (Teasing) of a Tactile Membrane Switch
F2592 Standard Test Method for Measuring the Force-Displacement of a Membrane Switch
As you begin to put your plan together for your switch test requirements, inevitably at the heart of this system will be the mechanicals you employ to produce this testing and what you will require in terms of switch data/results. Depending again upon the complexity, R&D/Quality/Engineering Lab or Assembly/Production line, you may be able to cobble something together between yourself and your internal talented co-workers (dare I say friends) or you may need the assistance of a professional 3rd party integrator to help design and make your creation become a reality. Regardless, here are some ideas and thoughts on how you can mechanically support the aspects of your project along with how you can gather this data using various technologies along with their benefits and potential shortcomings.
Pneumatics - Easily the lowest cost of entry and simple method to employ a bang-bang solution to get cycles onto a switch for testing. Simply set up the air cylinder so max extend is where the switch actuates, add pressure regulator, valve arrangement, air supply and a timer circuit and start putting on cycles (max 1,200 cycles per minute). If you need appreciable cycles or if you are looking for any additional data, actuation/contact force, bounce time, total travel, etc…you will need to pass on this simple solution…your ears and compressor might thank you as well.
Electric Ball screw or Belt drive actuators with Servo motor/controls - commonly used in automation where pneumatics does not have enough control to do accomplish the task at hand; motion (speed, position, force to some extent) here can be programmed much more precisely, +/-.001" ballscrew and +/-.005" belt drive repeatability are typical here. If you are trying to get real data, both options will need to be paired with other technologies (see LVDT/Load Cell below) to give you some position and some force feedback. At the same time both units are large and bulky, have a lot of moving mass, inertia and internal friction, and may not be ideal for the sensitivity that you may require to get accurate data results. Ballscrew units will typically be too slow to really put on the cycles and the small stroke (called dithering motion) does not lend itself to allow the internal balls in the nut to recirculate and re-lubricate causing early failure in some cases. There also always some inherent back lash in the design, unless you grind the screw = $$$ or preload the nut (which only increases internal friction which could adversely affect position or force feedback).
Moving Magnet Linear Motors - If you take a servo motor and open the technology up and lay it flat, you have the makings of a linear motor which you can imagine is capable of extreme speeds/accelerations, strong forces and linear accuracy. While this can certainly help to put on the life cycles, these units have a very high moving mass, resulting in poor feedback on force and much power draw to move at these ideal speeds. They can also be cost prohibitive.
LVDT - Linear variable position or displacement transducers are used in measurement; robust, inherently frictionless, they can have a virtually infinite cycle life when properly used. LVDTs have low hysteresis and excellent repeatability. These are typically coupled with other mechanics; pneumatics, ball screw, belt drive actuators as they are incapable of providing their own motion (except for an internal spring). LVDT converts a position or linear displacement into a proportional electrical signal containing phase (for direction) and amplitude (for distance) information. Marrying LVDTs with actuation technologies can put a strain (pun) on the LVDT and you are still tasked with how you control motion enough with these technologies to get good results while putting on life cycles. Any force feedback is also off the table unless you add a load cell below.
Load Cell -is a type of transducer, specifically a force transducer. It converts a force, in this switch test case compression, into an electrical signal that can be measured and standardized. It requires to be coupled with one or more of the above actuation solutions as it cannot provide its own motion or any positional feedback. Challenges to protect this precision measuring device from damage can be an issue as with the LVDT if it rides along during appreciable loosely controlled cycling.
SMAC Voice Coil Actuators - A special inverted design of linear motor is the voice coil actuator, where instead of moving the magnets, these are held fixed and the coils move. This results in complete programmability of motion and at the lowest moving mass and friction, thus making current applied directly proportional to force. The ability to switch between operations - force, position and velocity modes - at any time, makes it possible to capture force, distance and time attributes as may be required for your testing. This technology has a patented Soft-land feature which allows the you to "feel" the point of contact of initial contact as well as bottoming of the switch. Cycle speeds can approach 1,000,000 cycles in 9 hours, which can really accelerate life testing results. While more than likely a subcomponent of your test system, these devices combine the features of an LVDT, Load Cell and zero-backlash positioning system into a single industrial solid unit. This makes it ideal for reporting force vs. position or position vs time as well as high speed durability testing in real time. If your force resolution requirements should drop into the sub-gram level, the SMAC actuator can be married with a load cell (above) and provide the motion to not only put on cycles but protect the load cell from any impact.
SMAC can add a 2nd axis of rotary motion capable of capturing this same data including torque. This expands SMAC's capabilities to employ into even more complex switch testing:
Automotive suppliers & white goods manufacturers…car stereo control panels & volume control knob, car horn buttons, car door handles, wing mirrors, glove box compartments, seat belt buckles & boot latches, cell phone keypads, valves, sensors and relays, PC Keyboards and ATM keypads…. endless opportunities to help in your application.
The unique solution provided by SMAC has become the standard mechanical switch test solution. This is due to the ability to provide a relatively low cost off the shelf system that can be easily used to:
• Provide force & position feedback in a single integrated unit
• The ability to capture & plot data to enable precise measurement of force versus position
• Be able to verify hysteresis & switch differential
• Provide a single unit / solution that performs both life test and qualitative test at the same time
• Quantify & replicate the feel & touch of human fingers more accurately & precisely than humans themselves
• Deliver 100% data provision for SPC & Quality inspection systems to comply with ISO / TS16949 standards
Until the introduction of the SMAC Electric Actuator solution providers used a variety of standard pneumatic devices along with ball screws and unreliable load cells as described above which proved to be both difficult & expensive to build & maintain. The SMAC switch test solution is providing in a single, compact designed unit for easy installation and maintenance.
SMAC Inc is the world leader in Electric Actuator based on Moving Coil Technology and associated control systems. Headquartered in Carlsbad, California USA with subsidiaries throughout Europe, Asia & Japan.
SMAC delivers high tech solutions to industry with linear & rotary actuators, positioning stages and electronic control solutions.
Featured Product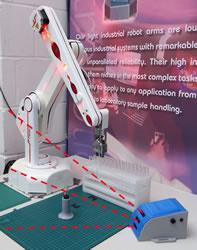 The ST Robotics Workspace Sentry robot and area safety system are based on a small module that sends an infrared beam across the workspace. If the user puts his hand (or any other object) in the workspace, the robot stops using programmable emergency deceleration. Each module has three beams at different angles and the distance a beam reaches is adjustable. Two or more modules can be daisy chained to watch a wider area. "A robot that is tuned to stop on impact may not be safe. Robots where the trip torque can be set at low thresholds are too slow for any practical industrial application. The best system is where the work area has proximity detectors so the robot stops before impact and that is the approach ST Robotics has taken," states President and CEO of ST Robotics David Sands.