This new XY / XYZ gantry stage motion system from PI provides overhead motion for industrial automation applications in assembly, pick-and-place, alignment, inspection, and custom 3D printer design. The A-352 gantry is designed and manufactured in the USA by PI's air bearing & precision motion division in Hopkinton, MA.
Precision motion control and nano-positioning industry leader, PI, introduces a new high performance gantry stage system, further increasing its gantry linear robot product family. The A-352 direct-drive gantry covers overhead motion ranges up to 2x1 meters and is based on a total of 3 direct-drive, closed-loop, brushless linear motors. Guided by high load mechanical linear bearings, it is ready for demanding 24/7 industrial automation applications. For maximum uptime and accuracy, absolute measuring linear encoders are integrated making homing procedures unnecessary and eliminating the possibility of dropped encoder counts from incrementally operating encoders. The ironless 3-phase linear motors are free of cogging, for improved velocity control and constancy - important for laser machining and digital printing applications.

XYZ Configurations with Z-Axis Linear Modules
For applications requiring XYZ motion, a motorized vertical linear module can be added at the factory - voice coil motors, linear motors, and screw drive linear modules are available, all with counterbalance or break option. Customizations, such as stage base materials (granite, aluminum, etc), a steel base, or isolators as well as mounting platforms for vision systems, laser heads, galvos or dispensers, etc., are also available.
Features of the gantry motion system include:
Standard XY travel ranges from 750x750mm to 1000x2000mm
Absolute encoders, 1 nanometer resolution
XYZ Configurations with Z-Stage options: linear motors, voice-coil scanners or ball screw stages
Dynamic error mapping for higher performance with ACS motion controller
High velocity: Up to 2 meters/second on the cross axis
Cable carrier option, e-chain
Water cooling option for high acceleration / high duty cycle applications
EtherCat-based Industry Motion Controllers
The A-352 overhead gantry motion system is operated by industry-leading EtherCat-based motion controllers / and servo drives that offer superior servo performance, advanced control algorithms to improve dynamic performance, for example in active photonics alignment and error compensation specifically for gantries, as well as a wide suite of software development tools.
More Information, Specifications, Datasheet»
Working with You
PI's in-house engineered solutions have enabled customers around the world to increase their productivity and technological advantage for 5 decades. With a large basis of proven motion technologies and methodologies, PI is in the position to quickly modify existing designs or provide a fully customized OEM solution to fit the exact requirements of your application from sensors and piezo transducers to microscope nano-focus units, fast photonics alignment systems to multi-axis automation sub-systems.
USA / Canada
http://www.pi-usa.us | info@pi-usa.us | (508) 832-3456
About PI
PI is a privately held company that designs and manufactures world-class precision motion and automation systems including air bearings, hexapods and piezo drives at locations in North America, Europe, and Asia. The company was founded 5 decades ago and today employs more than 1300 people worldwide. PI's customers are leaders in high-tech industries and research institutes in fields such as photonics, life-sciences, semiconductors, and aerospace.
Featured Product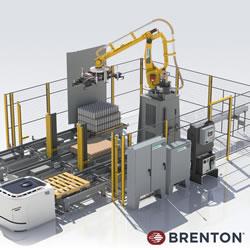 Brenton is a leader in robotic solutions with standard product offerings including palletizing and depalletizing for efficient an option for carrying hard-to-handle products, as well as larger scale systems with an optimized footprint; and case and carton loading solutions for numerous industries. In addition, Brenton works with customers on integrated solutions, offering robotics in a broad spectrum of robotics to fully integrate end of line systems. Brenton helps packaging customers protect their reputation and grow the trust of their consumers.